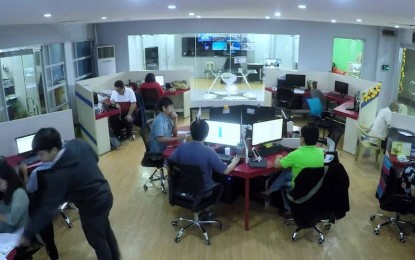 MANILA – The private news outfit Philippine News Service (PNS) was the country's first news agency, organized on Oct. 1, 1950, but it had to cease operations after martial law was declared.
"The Handbook of Journalism" by former Manila Times executive editor Jose Luna Castro said PNS was organized as a news-gathering cooperative by the publishers of the major dailies The Manila Times-Mirror-Taliba, Manila Chronicle, Manila Bulletin, Philippines Herald, Evening News, Bagong Buhay, and Fookien Times.
Its main function then was to supply daily news and photos from the provinces to the newspapers.
Radio and television stations also used PNS stories for a fixed monthly fee or subscription.
Major foreign news agencies, such as the Associated Press (AP), United Press International (UPI), Reuters, and Agence France-Presse (AFP), and a few private entities were among the subscribers.
Through the old mail system, using stamps and envelopes, PNS also maintained a news exchange agreement with other wire agencies -- Antara of Indonesia, Bernama of Malaysia, Kyodo of Japan, Yonhap of South Korea, Central News Agency of Taiwan, and Tass News Agency of the former Soviet Union, to name a few.
When President Ferdinand Marcos declared martial law in September 1972, PNS stopped its 24-hour daily operation since its major clients -- newspapers, radio, and TV stations -- were padlocked and guarded by government troops.
At the time of its closure, PNS had some 120 news correspondents from 70 provinces and 60 cities.
There was no actual order to close shop but PNS discontinued its daily operations on the second floor of the National Press Club (NPC) building in Intramuros, Manila.
Baldomero Olivera, Osmundo Abad Santos, Romeo Abundo, and Oscar Rojo served as PNS general managers during its nearly 23-year run.
Birth of PNA
When Marcos allowed a handful of newspapers and broadcast outfits to reopen, a group of former newspaper editors asked then Department of Public Information Secretary Francisco Tatad to explore the possibility of opening a government news agency by acquiring the World War II-vintage teletype machines and other equipment of the PNS.
The persistence of the editors to once again set up an even more dynamic wire news agency bore fruit when PNS was allowed to reopen under a new name, the PNA, as the government's official news outfit.
Negotiations for the acquisition of the PNS equipment were done by a group of former newspapermen from Tatad's office, including then Bureau of National and Foreign Information (BNFI) Director Lorenzo Cruz and Press Undersecretary Amante Bigornia, both deceased now.
The amount paid by the government for the old PNS teletype machines, typewriters, mimeographing machines, a photo darkroom, and cameras was used to pay the delayed salaries of the PNS staff in Manila from September to December 1972.
Jose Pavia, the late former executive editor of the defunct Philippines Herald, was the first general manager of the PNA.
He headed its initial 11-member staff, together with the late Renato Tiangco, also formerly of the Herald and a foreign news agency wireman, as managing editor and Severino Samonte, a holdover from the PNS, as national and provincial news editor.
PNA was created under a Special Department Order issued by Tatad. It was placed under the BNFI, its first mother bureau that provided its funds.
Launched on March 1, 1973, as the national government's official news agency, PNA initially used the editorial offices vacated by the PNS at the NPC building.
At the outset, four PNA correspondents were assigned to cover four Philippine Constabulary (PC) zones in Camp Olivas, Pampanga; Camp Vicente Lim, Laguna; Cebu; and Davao.
PC was the predecessor to the Philippine National Police, which was launched in 1991.
Currently, PNA is a division of the News and Information Bureau, which is headed by Director Gigie R. Arcilla.
The agency is under the direct supervision of Secretary Martin Andanar of the Presidential Communications Operations Office. (PNA)