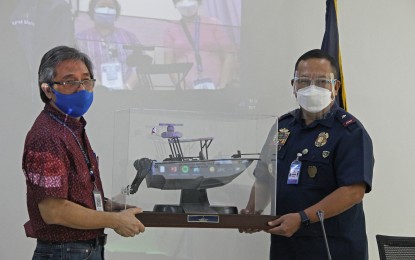 MANILA – The Department of Agriculture-Bureau of Fisheries and Aquatic Resources (DA-BFAR) and the Philippine National Police-Maritime Group (PNP-MG) signed a memorandum of understanding (MOU) on Friday at the BFAR Central Office, Quezon City.
The MOU grants personnel of PNP the right to embark on any DA-BFAR available vessel as a "shiprider" to conduct joint seaborne patrol.
"The DA-BFAR shall act as the lead agency in the enforcement of fisheries and marine conservation laws while PNP-MG shall provide personnel to augment the bureau's workforce in the conduct of seaborne patrol operations, particularly in the aspect of law enforcement and investigation," the MOU said.
The signing of the MOU, DA-BFAR National Director Eduardo Gongona said, will intensify the efforts of the two government agencies in enforcing fishery laws including conservation and management measures and marine conservation laws in Philippine seas to prevent, deter, and eliminate illegal fishing activities and to protect the marine environment of the area from overexploitation.
"Addressing illegal, unreported, and unregulated (IUU) fishing activity is a long-standing commitment of the government starting with the amendment of the Philippine Fisheries Code of 1998. Republic Act 10654, otherwise known as 'An Act to Prevent, Deter and Eliminate Illegal, Unreported and Unregulated Fishing', provides higher penalties for apprehended fishermen and boat owners while mandating better monitoring systems to stop IUU fishing," Gongona said.
As of September 2021, BFAR Fisheries Protection and Law Enforcement Group has reported a total of 489 apprehensions, 436 of which were apprehended fishing vehicles including municipal boats, and small, medium, and large commercial fishing vessels.
The 'OneDA' Reform Agenda of Agriculture Secretary William Dar on utilizing technology and innovation in the agri-fisheries sector and the DA's guidance on strengthening fisheries conservation measures have prompted BFAR to upgrade its law enforcement capability programs with cutting edge technology such as visible infrared imaging radiometer suite (VIIRS) and Integrated Marine Environment Monitoring System (IMEMS).
Both VIIRS and IMEMS are designed to amplify the government's monitoring, control and surveillance of the country's coastal waters and Exclusive Economic Zone.
"With these projects being carried out, DA-BFAR and PNP-MG are optimistic that IUU fishing will be stopped in Philippine waters to ensure the safety of our fisherfolk and the conservation of our marine resources," Gongona said. (PNA)