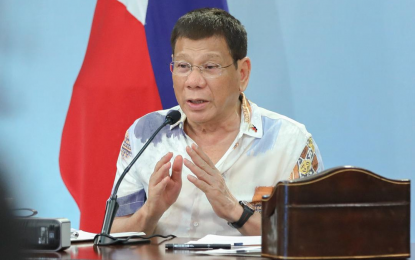 MANILA – President Rodrigo Duterte on Monday vowed to prepare for his defense for the full-blown investigation that will be conducted by the International Criminal Court (ICC) into the crimes against humanity allegedly committed in his administration's drug war.
He made the remark acknowledging how the public wanted him to retire from politics.
"Tanggap ko ang husga ng taongbayan. Simple lang, ayaw nila ako maglaro pa ng politka. Gusto nila umuwi na ako sa Davao at maghintay ako sa maraming dada ng dada diyan. I will prepare for my defense na yung ICC na 'yan (I accept the judgment of the people. It's simple, they don't want me to play politics. They want me to return to Davao and wait for people to talk. I will prepare for my defense for the ICC)," he said in a late night public address.
He, however, warned the ICC against fabricating evidence against him.
"Huwag lang kayo mag(sinungaling). Kung totoo lang. Tutal may record naman. Huwag kayo magimbento na yung namatay ng malaria diyan icha-charge ninyo sa akin. Kalokohan na 'yan. Hindi na justice ang hinahanap ninyo niyan (Don't lie. Just rely on evidence. There are records. Do not fabricate to the point that you charge me over those who died of malaria. That's nonsense. It might not be justice you're seeking)," he added.
No jurisdiction
Despite his pronouncement, he said investigators have no jurisdiction to probe the administration's drug war since local courts are still functioning.
"Pilipino ako, hindi ako international body. May sarili kaming judicial system dito. Huwag kayo makialam. Atsaka sinabi ko (I'm a Filipino, I'm not an international body. We have our own judicial system here. Do not interfere. And like I said) you never acquired jurisdiction over my person," he said.
He also reassured police officers that he will protect them as long as they performed their duties, even if it meant killing drug suspects.
"Sabi ko naman maraming mga pulis diyan pati opisyal, they are scared ano daw mangyari sakin. Sabi ko tigas ng ulo ninyo. Di ba sinabi ko anything na ginawa ninyo (There are police and officials scared about what could happen to me. I said, 'you're stubborn. Didn't I tell you that anything you do) in the prosecution of the drug war, for as long as you obeyed the law, I will protect you," he added.
Duterte said he was even willing to turn himself in to protect them, saying: "At kung may magkulong man, ako ang magpakulong (if anyone would have to be jailed, I'll turn myself in)."
Last month, the ICC's pre-trial chamber gave its green light to the request of its former chief prosecutor, Fatou Bensouda, to conduct a full-blown investigation into Duterte's anti-drug campaign.
The ICC's move to conduct an investigation into Duterte's drug war came despite the Philippines' formally withdrawing its membership from the ICC on March 17, 2019, or exactly a year after it revoked the Rome Statute that created the international tribunal. (PNA)