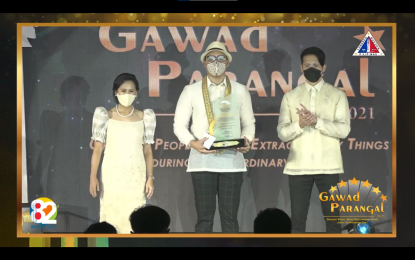 MANILA – The Quezon City government honored and recognized six individuals and six organizations for their exemplary deeds amid the coronavirus disease (Covid-19) pandemic as part of the city's 82nd founding anniversary.
During the Manuel Luis Quezon Gawad Parangal 2021 at the Elements, Centris in Quezon City on Tuesday night, Mayor Joy Belmonte lauded the awardees for going beyond themselves to help and inspire other people.
"We all have a selfless spirit inside us. Our awardees are proof of the truth that altruism is innate in our society. They will be the first to tell you that they are ordinary people doing extraordinary things," she said.
Among the awardees for their selfless service to QC residents are Police Lt. Jean C. Aguada, Rev. Fr. Ronald Mariano, Ana Patricia Non, Dr. Leandro Resurreccion III, Lou Sabrina Ongkiko, and Staff Sergeant and Olympic gold medalist Hidilyn Diaz.
The organizations that were awarded include the Philippine Animal Welfare Society, Safe Haven Community Center & Children's Home, ECPAT Philippines, BeSeekLeta for Every Juan, the Salamat PH Healthcare Heroes, and the OCTA Research.
The city also bestowed a special posthumous award to former President Benigno Simeon "Noynoy" Aquino III who is also a legitimate QC resident. (PNA)