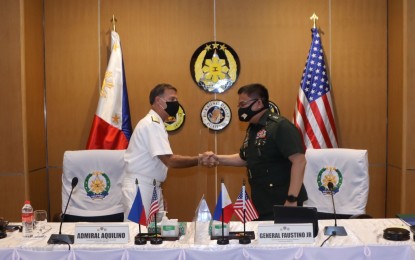 MANILA – With the recall of the termination of the Visiting Forces Agreement (VFA) with the United States, the Armed Forces of the Philippines (AFP) said this will allow it to push forward activities related to the Enhanced Defense Cooperation Agreement (EDCA).
"The final decision on the withdrawal of the abrogation of the VFA now allows us to push forward the delayed activities regarding like the exercise-related constructions, with regards to the EDCA," AFP chief-of-staff Gen. Jose Faustino Jr. said in a virtual presser on Thursday afternoon shortly after the 2021 Mutual Defense Board-Security Engagement Board (MDB-SEB) meeting in Camp Aguinaldo, Quezon City.
The MDB was established in 1958 and the SEB was established in 2006.
The two boards form the annual MDB-SEB, which coordinates a framework for defense and security cooperation between the US and Philippine militaries.
"We now look at very good opportunity now that we have a go signal to push forward with the VFA and pretty much for the next coming year, for the coming year we have, we will intensify our activities particularly relating to the EDCA," Faustino said.
Finalized after eight rounds of talks that began in August 2013, the EDCA, which was signed in April 2014, allows US troops access to designated Philippine military facilities, the right to construct facilities, and preposition equipment, aircraft, and vessels, but rules out permanent basing.
Meanwhile, US Indo-Pacific Command head Admiral John Aquilino, who was present during Thursday's MDB-SEB meeting, said the United States has released USD12.5 million "to meet the responsibilities outlined in the previous EDCA."
"And those fundings are being distributed in alignment with the prioritized order of capabilities that have been agreed to by Gen. Faustino and me so this is what right looks like through the lens of cooperation and in complete agreement by the two of us," he added. (PNA)