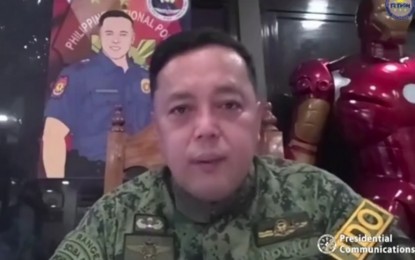 MANILA – The government continues to win the hearts and minds of Filipinos and is close to attaining "decisive victory" against communist insurgency through good governance and better services, an official of the Philippine National Police (PNP) said on Monday.
"Halos abot-kamay na ang ating decisive victory. Marami na ang naniniwala sa programa ng ating pamahalaan. Kaya marami na rin ang sumusuko sa kanila (communist terrorist group). (Decisive victory is almost within our reach. Many people now believe in the effectiveness of our government's projects. This is why many communist terrorist group members have surrendered). After five decades, this is the only administration that is able to provide a holistic solution to insurgency problem," PNP director for operations, Maj. Gen. Rhodel Sermonia, said in a virtual press briefing of the National Task Force To End Local Communist Armed Conflict (NTF ELCAC).
Sermonia said these programs include the ongoing Barangay Development Program (BDP), the Duterte Legacy Barangay Caravan, and the revitalized "Pulis sa Barangay" where government services are being delivered and sustained even in the farthest barangays that were largely ignored during the past administrations.
The NTF ELCAC's Barangay Development Program (BDP) has successfully rolled out development projects in 822 former village strongholds of the Communist Party of the Philippines-New People's Army-National Democratic Front (CPP-NPA-NDF) that have been cleared.
Each of these villages is provided with the BDP's five core projects, namely farm-to-market roads, school buildings, water and sanitation, health stations, and livelihood programs, of which more than 2,000 of these projects have been implemented by Executive offices concerned.
To date, Sermonia said people continue to extend support for genuine and lasting peace by providing information about activities of communist terrorists which have resulted in successful military and police operations.
He added that the creation of NTF ELCAC, one of the most important legacies of President Rodrigo Duterte, made it easier for the police to join hands with the Filipino people in "weakening and crippling the lines" of the Communist Party of the Philippines-New People's Army-National Democratic Front (CPP-NPA-NDF) through "massive police-community relations."
"Tuloy-tuloy na ito hanggang maramdaman ng ating mga kababayan ang malasakit ng ating Pangulo (This will continue until our kababayans feel the genuine compassion of our President)," he added.
Sermonia, who previously served as the PNP's director for police community relations, said the creation of the Global Coalition of Lingkod Bayan Advocacy Support Groups and Force Multipliers also contributed to promoting government programs for different sectors, especially those vulnerable to recruitment by communist front organizations.
"We debunk their narratives through good governance and better government services. Their ideology and violence now seem disruptive. We unmask their cadres and tactics through the mobilization of a coalition against their front organizations," he added.
Launched in June, the global coalition consists of 11 international and local organizations that provide proactive leadership, direction, and guidance to all government and multi-sectoral efforts to build a strong collaborative partnership with the community in support of the ongoing campaign against the communist insurgency, illegal drugs, terrorism, and disaster mitigation.
Sermonia added that through the government's legal offensives, the communist movement's capability to acquire funds has suffered a major blow.
These include the designation of the CPP-NPA as a terrorist organization and the enactment of Republic Act 11479 or the Anti-Terrorism Act of 2020 which penalizes terror financing.
The CPP-NPA is designated as a terrorist organization by the United States, the European Union, the United Kingdom, Australia, Canada, New Zealand, and the Philippines.
"We also intensified our legal offensive. In fact, the CIDG (Criminal Investigation and Detection Group), has filed charges against many leaders of communist front organizations. Some of them were even lawmakers," Sermonia said in Filipino. (PNA)