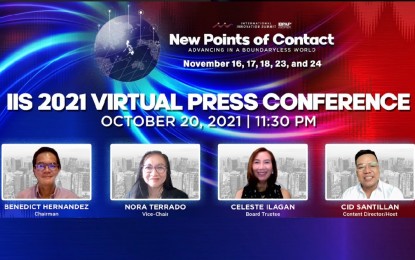 CEBU CITY – The information technology and business process management (IT-BPM) industry has consistently proven its resilience and continues to generate thousands of new jobs per year thus becoming a major source of foreign exchange because of government support, an industry leader on Wednesday said.
The IT and Business Process Association of the Philippines (IBPAP) cited the industry's fundamental role in the economy through decades of change and periods of ambiguity.
This was further reinforced in 2020 when the sector added 23,000 full-time employees (FTEs), reached US$26.7 billion in revenues, and contributed 7.4 percent to the country's gross domestic product (GDP) against a backdrop of the global financial crisis caused by the pandemic.
IBPAP chairman Benedict Hernandez announced in a virtual press conference on Wednesday the launching of the upcoming 13th International Innovation Summit (IIS) that will tackle the role of the industry under the new normal.
"It is doubtless that our industry's performance in the past year and half would not have been possible if not for the considerable support and incentives provided by the government, and the agility displayed by our allied sectors," he said.
IBPAP is the umbrella organization of the IT-BPM industry in the country -- with 87 percent of IT-BPM companies expecting to see between 5 to15-percent growth by the end of this year.
The industry is cautiously optimistic it will attain 1.43 million FTEs and revenues amounting to $28.8 billion in 2021.
"We must keep in mind that for this to become a reality, the sector needs to redesign the future through our key strategic imperatives on digitalization, talent, policy shaping, country marketing, and infrastructure," Hernandez said.
By once again gathering the innovators, builders, and enablers of the Philippine IT-BPM industry, this is exactly what the upcoming IIS will aim to do.
IIS 2021 will delve into how the sector is designing new points of contact in a world driven by change and connected from multiple global locations.
Themed, "New Points of Contact: Advancing in a Boundaryless World," the summit will set the stage for driving a digital Philippines and fueling economic progress.
"At this year's Summit, we are taking the industry to where our new points of contact –Platforms, People, Pillars, Policies, and Places– will see its greatest reset," IBPAP vice chair Nora Terrado said. "We will elevate the discourse on the transformation realities that the IT-BPM ecosystem is faced with and bring out insights that will be critical to the sector's strategy for adapting to the digital age, driving innovation, and contributing to economic growth."
Members of the government, academe, and business sector are invited to the virtual 13th IIS this Nov. 16, 17, 18, 23, and 24, 2021. (PNA)