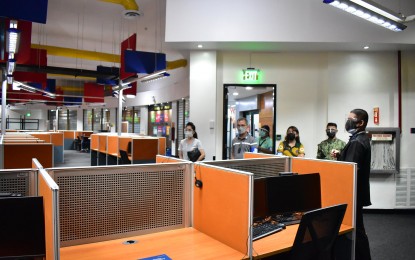 MANILA – The easing of travel restrictions, especially for foreigners, has positive impacts on the Philippine real estate market, a property advisory firm said.
Leechiu Property Consultants (LPC) chief executive officer David Leechiu said one of the positive outcomes of relaxing travel restrictions for foreigners is the comeback of Philippine offshore gaming operators (POGOs), which accelerated the growth of the office space market before the pandemic.
"With travel restrictions easing up, we anticipate POGOs to start reopening their offices and begin to grow by the second quarter of 2022," Leechiu said in a press briefing Thursday.
The POGO sector, where workers are mostly Chinese nationals, has given up around 30 to 40 percent of the office space and a higher rate of vacancy in the residential space amid the coronavirus disease 2019 (Covid-19) pandemic.
"Right now they are in the moat of stability. But when they start expanding again, I think it depends on the rate of expansion, they could easily wipe out all these vacant spaces in the market in the next two years," he added.
Leechiu also recalled how POGOs grew since 2016 when they are only occupying 200,000 square meters (sqm), to peaking at 1.7 million sqm. before the onset of the Covid-19 pandemic.
Leechiu said both the office and residential properties will be boosted with the return of POGOs in the country.
Aside from POGO, the easing of travel restrictions is also attracting business process outsourcing (BPO) companies to expand in the Philippines.
He added that many BPO firms, particularly newcomers, will be putting up their operations in the country. Most of these BPO companies are in the healthcare sector coming from the United States and Europe.
"I think the next administration will have to appreciate that we need more PEZA (Philippine Economic Zone Authority) zones in Manila. We continue to meet new brands, names you never heard before… who are coming to the Philippines for the first time, and they need to be in Manila," Leechiu said.
PEZA has been pushing for the lifting of the ban on new ecozones in the National Capital Region (NCR) to encourage new investors from the BPO sector to open their operations in the Philippines.
Leechiu emphasized those BPO firms that have been in the country for a long time are already expanding in other parts of the country, bringing more jobs and economic activities outside NCR. However, new entrants in the market will have to establish their offices in Metro Manila.
Moreover, with the infrastructure projects being established by the government particularly airports, it will attract more tourists to the country and will boost the tourism market, Leechiu said.
He added that direct flights coming from abroad to provinces with key tourist destinations will encourage more foreign travelers to visit the country for leisure trips.
"I think tourism will be the biggest industry in the Philippines within 10 years. It will be larger than the BPO sector, it will be larger than the overseas remittances," Leechiu said. (PNA)