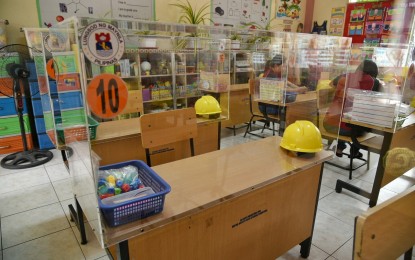 MANILA – Even with cases of the coronavirus disease 2019 (Covid-19) infections on the decline, some parents remain half-hearted in sending their children back to school for face-to-face classes.
Not until the virus is eradicated or the entire population has been vaccinated, some parents said, adding that they would rather have their children stay home for blended learning.
Others, however, want to have their children lead more normal lives and reduce the stress of staying at home for more than a year now.
Netizens have contradicting opinions on the reopening of physical classes in 30 schools on November 15, based on reactions gathered by the Philippines News Agency (PNA) from Wednesday to Friday.
"Yes na yes basta (Yes, so long as they) honor the procedure and protocols," Cynthia Balagan posted.
It was immediately followed by a negative response from Jinky Nicolas, who has a nine-year-old child in fourth grade at a school in Manila.
"No, hangga't may banta pa ng (No, until there is the threat of the) virus," she posted.
Werdan Ymuama is amenable to physically sending children back to school only if teachers and school staff are vaccinated against Covid-19.
"Kung lahat ng student na mag face-to-face at mga guro, gardeners, cleaners, suppliers, etc. ay bakunado. In short, lahat ng bakunado lang makakapasok, pwede iyan (If all students who will attend the face-to-face classes, along with teachers, gardeners, cleaners, suppliers, and others are vaccinated. In short, only those who are vaccinated can enter the school, then that is okay)," Ymuama posted.
Moreover, parents want to be assured that health and safety protocols will still be strictly enforced.
Meanwhile, Gilda Clavio agreed that staying home also has an effect on children and it's about time they return to school.
"Pwede naman na siguro basta masunod ang protocol, and mga safety ways, why not? Kasi para ma-develop na rin mga kids, maraming stressed na kids na rin (Maybe it is time. So long as protocols are followed, why not? This will also help kids develop. They have been through stress also)," Clavio said.
On the other hand, some parents still prefer online learning for their children's safety.
"Hmm, 'di bale ng mahirapan sa online class mga anak ko, basta safe (I don't mind if my children find online classes more difficult so long as they are safe). Hope that this will not be mandatory," Gordon Matthew Concepcion posted.
Schools participating in the pilot physical classes have disinfected and retrofitted classrooms.
Some parents are not comfortable with the barriers though.
"Hindi po sa mga barrier na 'yan matatapos ang safety ng mga anak namin. Ang dami pa din pong kaso ng Covid para i-consider na ang face-to-face. 'Wag muna po sana (The safety of our kids does not depend on those barriers. There are still many cases of Covid-19 to already consider face to face. Not yet). Better be safe than sorry," Arlene dela Cruz Bismonte said.
On September 20, President Rodrigo Duterte approved the pilot implementation of face-to-face classes in low-risk areas while the rest of the country will continue with blended distance learning.
The approval was in consideration of education quality, mental health, and economic issues amid the pandemic.
Education Secretary Leonor Briones explained that only schools that have met the safety and readiness assessment, as approved by the Department of Health, Inter-Agency Task Force for the Management of Emerging Infectious Diseases, and other organizations specializing in children's health, would be allowed to hold face-to-face classes.
To be allowed at a time are 12 learners in Kindergarten, 16 each for Grades 1 to 3, and 20 learners for technical-vocational students.
Each session will run for a maximum of three hours for Kindergarten to Grade 3 and four hours for Senior High School.
The pilot face-to-face classes will be conducted every other week and all qualified learners will be given the opportunity to attend physical classes.
However, Briones clarified that participating schools must secure the written support and consent of parents of students and no learner shall be forced to attend face-to-face classes. (PNA)