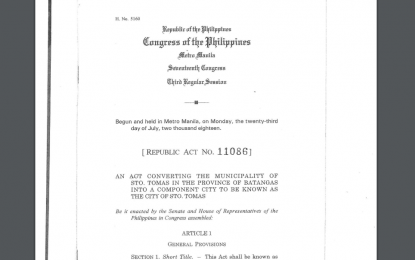 MANILA – Are you aware that at least 13 of the country's present 146 cities created since 1901 bear names of saints or religious personalities with the appellations "san," "santa" or "santo"?
Yes, these are the cities of San Juan in National Capital Region; San Jose in Nueva Ecija; San Fernando and Angeles in Pampanga; San Jose del Monte in Bulacan; Santiago in Isabela; San Pablo, Santa Rosa and San Pedro in Laguna; San Carlos in Pangasinan and Negros Occidental; San Fernando in La Union; and Santo Tomas in Batangas.
Prior to their existence as a city, they were also former towns of their mother provinces, according to combined data from the Manila Bulletin Yearbook published on Feb. 2, 2015 and the Philippine Statistics Authority (PSA).
San Juan City, a former town of Rizal province and site of the famous 1896 Pinaglabanan monument, was named after St. John the Baptist, one of the 12 apostles of Jesus Christ whose feast day falls on June 24.
It was weaned from Rizal province and incorporated with Metro Manila in 1975 under Presidential Decree No. 824. It became a city during the time of President Gloria Macapagal-Arroyo through Republic Act No. 9388 in March 2007.
San Jose City in Nueva Ecija, as its name indicates, is named after Saint Joseph, the earthly father of Jesus Christ. It became a city under Republic Act 6051 signed by President Ferdinand E. Marcos on Aug. 4, 1969.
Before becoming a city, Santiago was one of the most developed towns of Isabela in Region 2 (Cagayan Valley). It was converted into a city through RA 7720 signed by President Fidel V. Ramos on May 5, 1994.
In Pampanga, the City of Angeles (literally meaning holy guardian angels) was converted into a city under RA 3700 signed by President Diosdado P. Macapagal and took effect on Jan. 1, 1964.
Also in Pampanga, the former capital town of San Fernando was converted into a city under RA 8990 approved by Arroyo on Jan. 26, 2001.
Another former capital town, San Fernando in La Union, was created as a city under RA 8509 signed by Ramos on Feb. 13, 1998.
On June 18, 1960, the town of San Carlos in Negros Occidental province was transformed into a city under RA 2643 signed by President Carlos P. Garcia.
Five years later, a similarly named-San Carlos town in Pangasinan was created as a city under RA 4487 approved by Marcos on June 19, 1965.
San Jose del Monte City in Bulacan, one of the three cities of the province after Malolos and Meycauayan, was born in September 2000 through RA 8797 signed by President Joseph Estrada.
San Pablo City in Laguna was created by President Manuel L. Quezon through Commonwealth Act 520 he signed on May 7, 1940. It was Laguna's first city.
The town of Santa Rosa, also in Laguna, became a city on March 10, 2004 through RA 9264 approved by Arroyo.
Another Laguna municipality, San Pedro, became a city on March 27, 2013 through RA 10420 signed by President Benigno S. Aquino III.
The country's 146th and youngest city, Santo Tomas in Batangas, was converted into a component city in 2018, through RA 11086. It is the only city created so far under the administration of President Rodrigo R. Duterte. (PNA)