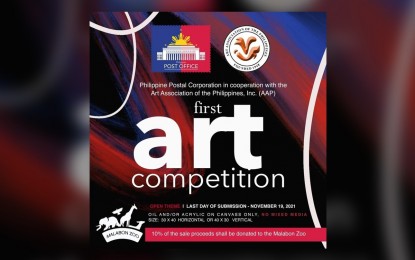 MANILA – The Philippine Postal Corporation (PHLPost) in cooperation with the Art Association of the Philippines (AAP), the oldest artist organization in the country, is inviting entries to the "First Philippine Postal Corporation Art Competition 2021" to be held at the iconic Manila Central Post Office Building in Liwasang Bonifacio.
Founded in 1948, the Art Association of the Philippines aims to advance, foster and promote the interests of those who work in the visual arts.
"We wanted to promote the creative expression of the Filipinos and develop their artistic accomplishments at its highest level," Postmaster General Norman Fulgencio said.
AAP president Fidel Sarmiento believes that the said art competition will generate interest among Filipino artists, especially during the pandemic.
The event organizers pledge to donate 10 percent of the event's proceeds to the Malabon Zoo to help bring some relief to the animals.
The art competition is open to all Filipino citizens who are 18 years old as of September 2021. Participants may submit one entry only.
Artists should submit their best representational art to the open theme competition. Any subject or artistic expression is welcome.
Artists may find the information link on the AAP Facebook page at: https://www.facebook.com/groups/200996850006586.
Entry forms are also available online via its social media page. All interested applicants must be mindful of the mechanics, rules, and regulations governing the competition.
The medium to be used should be the following: oil and/or acrylic on canvass only. No mixed media. The size should be 30x40 horizontal, 40x30 vertical. Entries must be original, have not yet been exhibited, printed, or posted on any social media. It should be signed by the artist, but the name must be covered with masking tape prior to submission to conceal the artist's identity. Entries must be properly labeled using a card caption imprinted with the name of the artist, title, medium, size, and date finished. It should be placed at the back of the painting.
Participants must submit 3x5 or 5x7 colored photos of their entry. Entry forms must be notarized.
The first prize will get PHP100,00; second prize- PHP70,000, and third prize- PHP50,000.
Ten honorable mentions will be given PHP30,000 each. Entries should be submitted on Nov. 19, 2021, Friday from 8 a.m. to 5 p.m. at the Manila Central Post Office in Liwasang Bonifacio. Awarding of winners shall be announced on the day of submission. (PR)