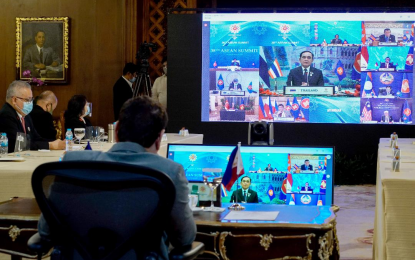 MANILA – President Rodrigo Duterte on Thursday appreciated Japan's unending support for the coronavirus disease 2019 (Covid-19) response efforts of the Philippines and other members of the Association of Southeast Asian Nations (Asean).
"We deeply appreciate Japan's continued support for the Philippines' and Asean's Covid-19 mitigation efforts," Duterte said during the virtual 24th Asean-Japan Summit.
Duterte said he is grateful that despite the challenges amid the Covid-19 pandemic, Japan stays as a "staunch partner of Asean" in promoting peace and development in the region.
He hoped that Asean's ties with Japan would further improve to ensure their "sustainable" recovery from the pandemic.
"The pandemic has not weakened our dynamic engagement," Duterte said. "As we gear up for sustainable recovery, we hope to continue working with Japan to fortify regional and global supply chains, build quality infrastructure, boost tourism, and strengthen micro, small and medium enterprises."
Duterte said the 10-man Southeast Asian bloc is optimistic about its enhanced cooperation with Japan in environmental protection, climate action and biodiversity conservation.
"Integral to our recovery efforts is human capital development. We have to equip our people for the future world of work," he said.
As the inaugural chair of the Asean Technical and Vocation Education and Training (TVET) for 2020-2022, Duterte said the Philippines is hoping that Japan would support the program.
Duterte also lauded Japan's active cooperation with Asean in the security sphere.
He likewise told Tokyo that the Philippines is ready to be its co-chair with the third Asean Regional Forum Workshop on maritime domain awareness.
"Recent regional developments point to the increasing importance of norms and institutions to manage relations among sovereign states," Duterte said, adding that the regional bloc counts on Japan's continued support for the Asean Outlook on the Indo-Pacific and Asean-led regional mechanisms for peace and development. (PNA)