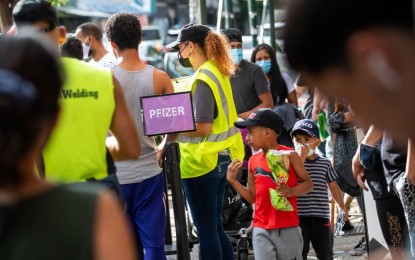 WASHINGTON – The U.S. Food and Drug Administration (FDA) on Friday authorized the emergency use of the Pfizer-BioNTech Covid-19 (coronavirus disease 2019) vaccine in children 5 through 11 years of age.
The authorization was based on the FDA's thorough and transparent evaluation of the data that included input from independent advisory committee experts who overwhelmingly voted in favor of making the vaccine available to children in this age group, said the agency in a statement.
The Pfizer-BioNTech vaccine for children ages 5 to 11 is administered as a two-dose primary series, 3 weeks apart, but is a lower dose (10 micrograms) than that used for individuals 12 years of age and older (30 micrograms).
The decision came following an FDA advisors' meeting held earlier this week which recommended authorizing the vaccine for children ages 5 to 11. The FDA advisors believed the benefits of the Pfizer-BioNTech vaccine outweigh its risks for use in this younger group.
It is the first Covid-19 vaccine approved for emergency use in the United States for children ages 5 to 11. (Xinhua)