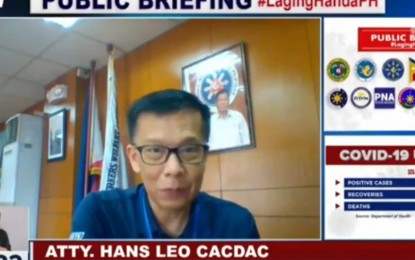 MANILA – The Department of Labor and Employment (DOLE) officials will be conducting a series of discussions with its counterparts from the Kingdom of Saudi Arabia (KSA) on the latter's commitment to pay the more than PHP4 billion worth of salaries and benefits of some 9,000 displaced overseas Filipino workers (OFWs), Overseas Workers Welfare Administration (OWWA) chief Hans Leo Cacdac said on Tuesday.
"It is my understanding that there will be a series of meetings, especially between Secretary Silvestre Bello III and the Saudi Labor Minister, to further clarify the implementation of this payment of wages and benefits," he said during the Laging Handa briefing.
Cacdac said the distribution of the payment to the affected Filipino workers will also be discussed during the meeting.
"Regarding the method of distribution, we still need to know on the Saudi side what the distribution method will be. As I mentioned earlier there will be more meetings. There are still talks to be held in this regard, clarifying this good news," he said.
Cacdac also said the OWWA and the Philippine Overseas Employment Administration (POEA) are studying the recommendation to Bello for the possible deployment ban of Filipino workers in Saudi Arabia.
"Administrator Bernard Olalia and I continue to talk so that we can give a recommendation to Sec. Bello. Of course, what we will look at the commitment of the Saudi side in fulfilling their obligation to their workers regarding wages and benefits," Cacdac said.
"The series of meetings or talks between the Philippines and the Saudi side is very important. We will know the full commitment of the Saudi side," he added.
On Sunday, Bello announced that the KSA government is expected to pay the unpaid salaries OFWs who were forced to return to the Philippines after they stopped receiving remuneration several years ago.
He is optimistic the payment will be made when KSA Labor Minister Ahmed al-Rajhi visits the country in December this year. (PNA)