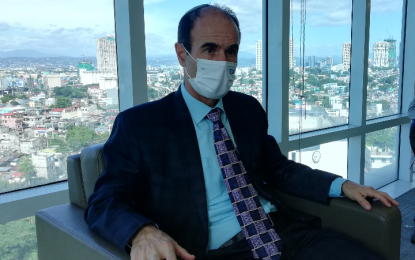 MANILA – Israel is accepting Filipino and other foreign tourists as long as they are fully vaccinated and their second dose had been administered within the last six months, Israeli Ambassador to the Philippines Ilan Fluss said Wednesday.
"On the 1st of November this week, we opened for vaccinated tourists so anybody who is vaccinated can visit Israel. Filipinos are now welcome to visit Israel," he told the Philippine News Agency in an interview.
Tourists may travel to Israel "individually or as a group" but are advised to check first the specific entry guidelines and requirements before booking their flight and tour packages.
The envoy said travelers will have to present a negative reverse transcription polymerase chain reaction (RT-PCR) test result taken 72 hours prior to departure and take another swab upon arrival at the airport.
After the test, the tourist will undergo mandatory quarantine until the result is out.
Fluss noted that Israel is only allowing foreigners who had been vaccinated with a jab recognized by the World Health Organization, such as Pfizer, Moderna, AstraZeneca, Johnson & Johnson, Sinovac, and Sinopharm.
Among others, the second dose must be administered within the past six months and supported by a vaccination certificate.
"If (the last shot) is more than six months, you are considered unvaccinated. So either you take the booster and then you can visit or you can't," he said.
Filipinos are allowed visa-free entry to Israel but Fluss said they must secure a "special entry permit", which had been required from all foreign nationals following the Covid-19 pandemic.
'Tourism exchanges'
As Israel looks forward to welcoming Filipino tourists to the Holy Land, Fluss said Israeli travelers are likewise waiting to visit the Philippines, popular for its picturesque beaches and world-class dive spots.
"The Philippines, for Israelis, is a very interesting attraction. Israelis have been to Thailand but they like to always find new and exciting destinations and in the last few years they found the Philippines. So I want to see more of the Israeli exchanges," he said.
In the meantime, he invited Filipinos to visit their religious sites and churches that had been closed to foreigners since March 2020.
"The Philippines is a Christian country and I think people are very keen to travel to the Holy Land and we would be very happy to see more tourists to come and visit," he said.
"Israel is an interesting country with the combination of the Holy Land, history, religion, culture; and Tel Aviv is a city of fun and is one of those cosmopolitan cities that goes 24 hours. It's a combination of modern and traditional," he added.
Fluss is also hoping the Philippine Airlines could finally mount its direct flights between Manila and Tel Aviv in April 2022 after the target launch last October 2021 was postponed "due to issues with the routes".
"It was supposed to start last month, October 2021, and it was postponed. I'm going to meet them and I really hope that it will start in April," he said. (PNA)