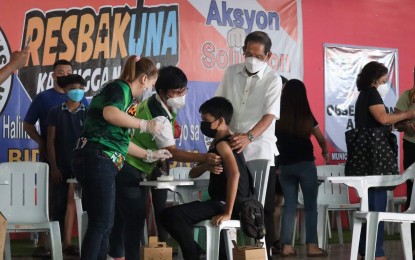 DAVAO CITY – The local government of Santo Tomas in Davao del Norte on Monday rolled out its pediatric vaccination for minors aged 12 to 17 and encouraged parents to get their children vaccinated against the coronavirus disease 2019 (Covid-19).
In an interview Monday, municipal information officer Mart Sambalud told Philippine News Agency (PNA) that they are targeting around 8,000 children in their town to get the vaccine.
He added that present during the kick-off event at the Municipal Recreation and Cultural Center were Mayor Ernesto Evangelista, Municipal Administrator Elisa Evangelista-Lapiña, Municipal Health Officer Dr. June P. Lim, Municipal Health Center Administrator Charlemagne Fernandez, and other local officials of the Sto. Tomas.
Sambalud said minors and young adults who are either healthy or with comorbidity may get the vaccine. Comorbidities may include obesity, genetic conditions, neurologic conditions, cardiovascular diseases, HIV, chronic respiratory diseases, renal disorders, and hepatobiliary (referring to the biliary tract or gall bladder, kidney, liver) diseases, among others.
Sambalud said that apart from the Pfizer vaccines intended for the pediatric vaccination, Moderna and AstraZeneca shots are also being used for the adults' second dose. Pfizer and Moderna have earlier been given emergency use authorization for minors 12 to 17 years old by the Philippine Food and Drug Administration.
Sambalud added that informed consent by the parent or guardian and child before the scheduled vaccination should be obtained.
He added that the Santo Tomas Inter-Agency Task Force (IATF) requires children with comorbidity to secure clearance from their pediatricians or doctors on top of the "DavNor QR Code," valid ID, and birth certificate.
"We are ramping up our vaccination program and now to include children since they could get infected with the coronavirus also. Though the risk is lower when compared to elderly members of the population, still we don't discount the possibility that minors could also get severe Covid-19," Evangelista said. (PNA)