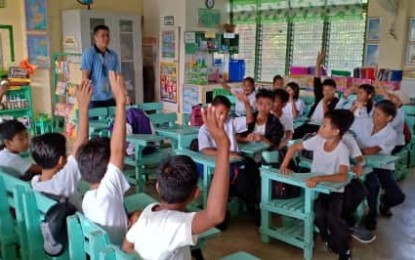 MANILA – Two economist-lawmakers on Tuesday welcomed the Philippines' economic growth at 7.1 percent during the third quarter amid the imposition of strict lockdowns to prevent the spread of the coronavirus Delta variant.
Marikina City Rep. Stella Quimbo said the positive gross domestic product (GDP) growth means that businesses are re-opening and households are spending more after almost two years of economic downturn.
The third-quarter GDP was higher compared to -11.6 percent in the same period in 2020, but lower than the 12 percent in the second quarter this year mainly driven by base effects. Year-to-date growth is currently at 4.9 percent.
Quimbo also cited the Philippine Statistics Authority (PSA) that the country's seasonally adjusted quarter to quarter growth is 3.8 percent, with retail trade, repair of motor vehicles, transportation, and professional services as top contributors to growth.
"At this point, any news about positive GDP growth is good news, so the announcement of a 7.1 percent growth by the PSA this morning is welcome news," Quimbo said.
She, however, warned against claims that the country's "recovery is accelerating" as it may mask some important aspects of the economic situation.
She said the current per capita income levels at PHP40,191 have not yet returned to pre-pandemic levels, which was at PHP48,839 in the fourth quarter of 2019.
"To say that 'recovery is accelerating' is thus premature. Galing po mismo sa NEDA (National Economic and Development Authority said) that it would take 10 years before the country returns to pre-pandemic levels of growth due to 'scarring effects' on the economy," she said.
She said one of the economic scars due to Covid-19 is the prolonged school closures, adding that the Philippines is one of the few countries in the world that has not returned to face-to-face classes.
Citing the Asian Development Bank, Quimbo said the prolonged school closures lead to learning losses that could affect their productivity as future workers, noting that the earnings of affected students would be decreased by 10 percent for every year that there are no face-to-face classes.
Quimbo also stressed that the signs of economic recovery must be protected with a sufficient Covid-19 health response.
"As more and more people leave their homes and engage in economic activity, the health sector must be prepared to provide vaccination, testing, tracing and treatment when needed. Kung wala nito, madaling mawala ang early economic gains kapag lumobo na naman ang mga kaso (Without these, our early economic gains would be gone once the cases rise again)," she said.
She said frontline healthcare workers, as the first line of defense against Covid-19, must receive the benefits and allowances promised to them.
Relatively strong
Meanwhile, House ways and means committee chair Joey Salceda said the third quarter GDP figures are relatively strong, considering the hard lockdowns in August.
Salceda said the strong construction sector growth of 23.8 percent, matched with very strong demand for imports, indicates that there is momentum in capital formation.
"I expect businesses to intensify their investing and expansion activities by Q1 of 2022," he said.
He said the Industry and Services groups showed robust numbers, at 7.9 percent and 8.2 percent respectively, while agriculture contracted by 1.7 percent year-on-year.
Salceda committed to help increase the agriculture budget for 2022, noting that the growth and value-added in the agriculture sector would be a key driver of economic recovery.
He expressed concern about the "very little change" in employment levels observed from April to September of 2021, despite growing vaccination rates across the board.
"I remind all of a basic economic principle, however, that growth is a necessary, but not sufficient, condition for socioeconomic recovery. We need jobs and income recovery," he said.
He said the vaccination rate in Metro Manila is now at around 63 percent, which is around the same rate as places like New York and California, but "job recovery remains tepid" in the country.
Salcaeda suggested to fill in all government positions that remain unfilled for 2021, complete all infrastructure programs under the 2021 budget, and direct the government financial institutions (GFI) to be more aggressive with business loans as the economy becomes more favorable to new investments and entrepreneurial ventures.
He stressed that the most important government intervention would be an economic stimulus.
"The conditions are ripe for expansive growth-inducing programs because there is growing economic activity to amplify government spending. If the government will be unwilling to fund a supplemental stimulus this year, at the very least it must identify 2022 programs that can be frontloaded and expedited for implementation at the start of the year," he said. (PNA)