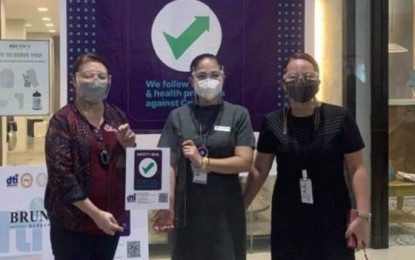 CEBU CITY – The Emergency Operations Center (EOC) on Wednesday reported that 181 business establishments here have been granted the safety seal certification.
Councilor Joel Garganera, EOC-Cebu City head, said in a presser that more establishments have endeavored to secure the said certification as required by the government to protect both the workers and customers from coronavirus disease 2019 (Covid-19).
The city's Business License and Permit Office (BPLO) has listed more establishments that want to avail of the safety certification to ensure compliance with the minimum health protocols, particularly the capacity per venue, and prevent the spread of the disease.
"We put emphasis (on) the ventilation of every establishment that we inspect for the certification. It's the key to keeping the establishment safe from Covid-19. They should always look at the carbon dioxide level at a particular area," Garganera said.
The city government, through the EOC and BPLO, has been coordinating with various offices to organize 40 inspection teams comprising personnel from the Cebu City Hall, Department of the Interior and Local Government, Department of Trade and Industry, Department of Tourism, and the Department of Health (DOH).
The safety seal certification affirms that an establishment is compliant with the minimum public health standards set by the government and uses or integrates its contact tracing measures with StaySafe.ph.
The DTI issues the safety seal to supermarkets, groceries, convenience stores, membership shopping clubs, construction supply/hardware stores, logistics service providers, barbershops and salons, and service and repair shops.
Citing the effort of the business community to recover from the pandemic-caused economic slump, acting City Mayor Michael Rama also underscored the business community's active role in the vaccination rollout for the economic front-liners.
However, Garganera reminded the establishment owners and their patrons that being vaccinated is not a substitute for compliance with the standard protocols in preventing the spread of coronavirus.
"Yes, we are vaccinated but we still need to wear our face masks and maintain the minimum distance from one another. Let us not commit our slightest mistakes because our number one enemy is complacency," he said.
Garganera reported that the city has recorded the lowest positivity since the start of the pandemic at 0.87 percent out of the 690 specimens submitted for testing.
On Tuesday, the DOH-7 logged only two new infections, bringing the total active Covid-19 cases in the city to only 272. (PNA)