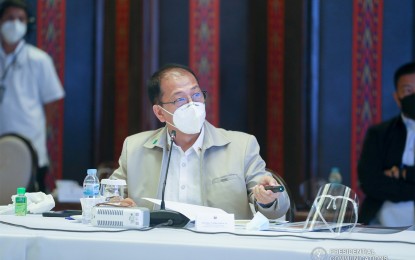 MANILA – The government is confident it will surpass its goal of 1.5 million doses administered per day, based on the increasing vaccination output in the previous days.
The latest data from the National Covid-19 vaccination dashboard showed the Philippines has administered a total of 70,677,771 doses nationwide, with 31,868,120 Filipinos now fully vaccinated.
The average daily jab rate during the period November 2 to 16 was 811,501 doses, while the weekly throughput was at 5,582,227 doses as against the 5.4 million the previous week.
Secretary Carlito Galvez Jr., the chief implementer of the National Task Force (NTF) Against Covid-19, said the government is on its way to fully vaccinate up to 70 million Filipinos before the end of the year.
"Ang kagandahan po, Mr. President, paakyat ng paakyat ang ating highest weekly output. Noong last week po, nung nagreport kami sa inyo ay 5.4 [million], ngayon po ay 5.5 na. Meaning lumalapit na po tayo sa ating monthly output na at least maka-25 million po tayo ngayon (The good thing here, Mr. President, is our highest weekly output is increasing. Last week, we reported to you a 5.4 million doses, now we have 5.5 million doses. Meaning, we are nearing our monthly target of at least 25 million doses this) November," Galvez told President Rodrigo Duterte during the pre-recorded Talk to the People televised Tuesday morning.
"Malaki po talaga ang (There is a huge) improvement and we are very confident to surpass the 1.5-million mark," Galvez said.
Of the 124,914,000 doses received, 81,256,780 were procured by the national government.
A total of 54,236,229 are still in the stockpile and ready for distribution.
Galvez said 17 million more doses will be delivered in the coming days, including 3,530,400 doses of government-procured Sinovac that will arrive Wednesday morning, purchased through the Asian Development Bank.
"Meaning 'yung ating quota for the year of 70 million, makukuha po natin at 'yung darating po ng December ay 'yun po, pwede na po nating ilaan po sa first quarter ng (Meaning, we will be able to reach our quota for the year of up to 70 million. Those vaccines that will be arriving in December can be allocated for the first quarter of) 2022," he said.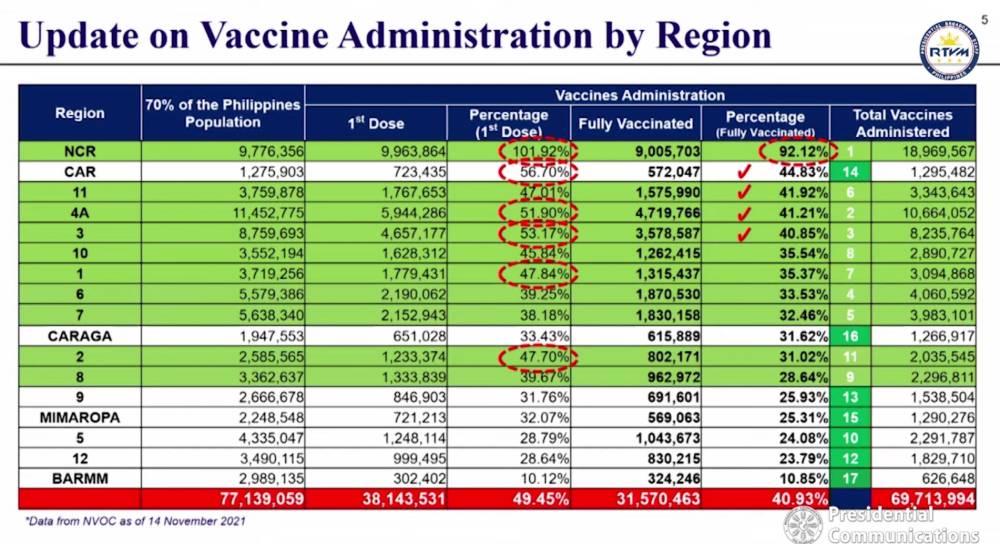 Nationwide program
Galvez reported that the National Capital Region has vaccinated 102.92 percent of its 9,776,356 target population with at least one dose, while 9,005,703 individuals or 92.12 percent people have completed their two doses.
It is followed by the Cordillera Administrative Region, with 572,047 individuals or 44.83 percent out of its 1,275,903 eligible population, now fully vaccinated.
Other regions also posted increasing full vaccination rates such as Davao, with 41.92 (1.5 million out of 3.7 million); 41.21 percent in Calabarzon or Region 4-A (4.7 million out of 11.4 million); 40.85 percent in Central Luzon or Region 3 (3.5 million out of 8.7 million); and 35.54 percent in Northern Mindanao or Region 10 (1.2 million out of 3.5 million).
The Bangsamoro Autonomous Region in Muslim Mindanao (BARMM), meanwhile, has the lowest vaccination rate so far at 10.85 percent or only 322,246 people out of its 2,989,135 target population with full protection against the disease.
Galvez said vaccine hesitancy in various isolated communities contribute to the measly output.
He said the NTF will tap other government agencies such as military and security forces, the Transportation department, and even the private sector, to fast-track the deployment of Covid-19 vaccines to far-flung and geographically isolated areas like BARMM. (PNA)