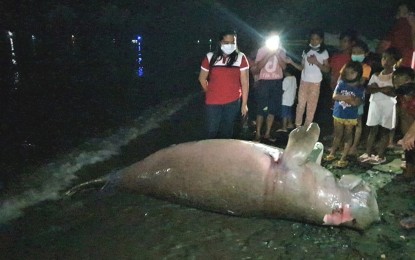 GENERAL SANTOS CITY – Environment personnel in Sarangani have raised concern over the discovery of a dead sea cow or manatee (locally known as "dugong") on the shores of Kiamba town, Sarangani province on Tuesday night.
Joy Ologuin, area superintendent of the Sarangani Bay Protected Seascape (SBPS), said on Wednesday the dead marine mammal was initially reported by local residents to have washed ashore at a portion of Barangay Poblacion.
She said the Municipal Environment and Natural Resources Office (MENRO) and the Community Environment and Natural Resources Office (CENRO) in Kiamba immediately verified the matter and found the carcass of the female sea cow.
"Upon inspection, they noticed the bruises and abrasion in some parts of its body," she said in a report.
Oloquin said she ordered the immediate burial near the site of the marine mammal in coordination with local stakeholders.
MENRO and CENRO personnel are currently looking into the possible causes of the death of the 2.7-meter sea cow, which is among the flagship species of the SBPS.
On October 26, residents also found a stranded female Pygmy sperm whale (Kogia breviceps) on the shores of Barangay Mabay, Maitum town.
The whale, which had a body circumference of 115 inches and 225 inches from dorsal to tail, was weak and wounded when rescued by CENRO personnel.
Blood samples were collected from the stranded whale and a responding veterinarian performed intubation to make it stay hydrated but it died a day later.
Dr. Mejorada, the in-house veterinarian of the Sarangani Environmental Conservation and Protection Center, conducted a necropsy but the result was inconclusive as to the cause of death.
Hundreds of marine mammals have been spotted by the environmental workers to have been thriving in parts of the Sarangani Bay in the past several years.
The bay, which covers 215,950 hectares, is the only declared protected seascape in Region 12 (Soccsksargen). (PNA)