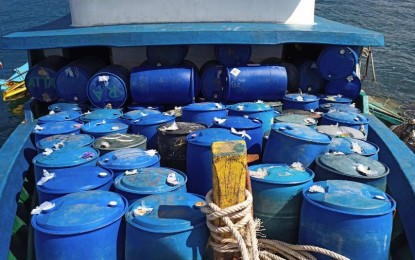 MANILA – The Bureau of Customs (BOC) on Monday told lawmakers it has seized over 81,000 liters of smuggled fuel upon the creation of a task force to combat fuel smuggling in the country.
During the hearing of the House ways and means committee, the BOC said a Joint Fuel Integrity and Field Testing (FIFT) Task Force was proposed to be created with representatives from the Bureau of Internal Revenue (BIR), Department of Energy (DOE), Philippine Coast Guard (PCG), and National Bureau of Investigation (NBI) this year after Albay Representative Joey Salceda recommended the creation of a Task Force "Paihi" to address fuel smuggling in February.
According to the Customs report, these operations resulted to the seizure of 79,740 liters of diesel, 2,016 liters of kerosene and two units of tank truck.
Salceda, who chairs the House panel, lauded the BOC for this initial progress, as he expressed optimism that it will be able to apprehend more smugglers.
"Just the mere threat of credible enforcement is enough deterrence against fuel smuggling. While we cannot get rid of all smuggling, we can make it so difficult that for most importers, it will be easier to just follow the law," he said.
Salceda also asked the BOC to strengthen its fuel marking operations.
"I was insistent that we ensure that the mechanisms against fuel smuggling are in the Tax Reform for Acceleration and Inclusion or TRAIN Law. Fuel marking is the most salient of these measures. I urge the BOC to make sure we optimize this tool," he said.
The BOC said marking operations is conducted in 28 of the 50 terminals.
The bulk of marking operations are conducted in 14 terminals and one refinery in Luzon, three terminals in Visayas, and 10 terminals in Mindanao. Marked fuel in Luzon is subsequently distributed to the secondary depots of oil companies in Visayas and Mindanao.
The BOC also reported that in terms of the volume of fuel marked per region, majority of the volume marked was in Luzon with 73 percent or 23.74 billion liters of fuel, followed by 21 percent or 6.85 billion liters in Mindanao and finally, in Visayas with 6 percent volume share equivalent to 1.76 billion liters.
In terms of the product type, 61.07 percent of the volume marked was diesel with 19.76 billion liters, followed by gasoline 38.39 percent or 12.42 billion liters of gasoline and 0.53 percent or 173 million liters of kerosene.
Salceda said he expects continuous follow up reports on the measures taken by the BOC to ensure that fuel smuggling is minimized, "especially as we find a way to soften the fiscal impact of a potential reduction in fuel excise taxes".
The committee also looked into the illicit trade of cigarettes and tobacco products, including enforcement activities against this illicit trade.
BOC Assistant Commissioner Vincent Maronilla reported that the agency immediately suspended the accreditation or license to import of registered Philippine Economic Zone Authority (PEZA) enterprises and other ecozone locators that are being utilized as conduits for smuggling.
He added that these violations are already subject to the investigation by the BOC Intelligence and Investigation Service and audit by the BOC-Post Clearance Audit Group (PCAG).
Maronilla then mentioned that the BOC has begun working with procurement experts for the implementation of the new customs processing system and remote image analysis centers. (PNA)