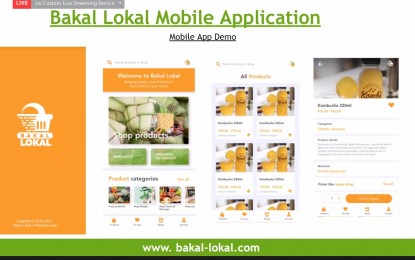 ILOILO CITY – An online application dubbed "Bakal Lokal" developed by a group of Iloilo youth has assisted over a hundred micro, small and medium enterprises (MSMEs) to reach a wider market during the health pandemic.
Rayjand Gellamucho, the project leader of Bakal Lokal, said on Tuesday the e-commerce platform is a response of their group, Youth First Initiative Philippines Inc. (YFIP), to the coronavirus disease 2019 (Covid-19) with the help of the Department of Science and Technology (DOST) grant-in-aid program.
"Our mission is to help our micro and small enterprises bounce back due to this pandemic. Most of our entrepreneurs on board this project increase their sales as well as we also help them in their product development. Although it's pandemic, it's very challenging for us to operate but we deliver what is expected of us for this project," he said during the virtual press conference following the opening of the National Science and Technology Week (NSTW) celebration.
Products available and can be seen on the application are fresh produce from the farms, condiments and processed foods, artisans, and eco-fashion/lifestyle products.
Orders are being delivered through their delivery partners all over Panay and through their national delivery partners.
MSMEs interested to join the digital platform are advised to visit their Bakal Lokal Facebook Page for them to be guided and to get on board.
"The basic requirement is that they should be selling locally or Philippine-made products," he said.
Gellamucho added that startup businesses are very welcome since their vision is to help small entrepreneurs scale up.
They also prioritized those being assisted by government agencies so as not to put into waste the fund that was given to them.
In addition to providing them the venue to sell, those already onboard are provided with capacity development training to include how to use the platform and digital payment.
The group has also launched their Bakal Lokal acceleration program to further develop MSMEs and assist start-ups in technology business incubators (TBIs).
"We would like to see later on the environment of helping the traditional MSMEs that would like to avail the products of the tech-based companies," he said.
Meantime, a Bakal Lokal fair participated by those onboard the platform is ongoing at the Robinsons Place Jaro as part of the NSTW celebration. (PNA)