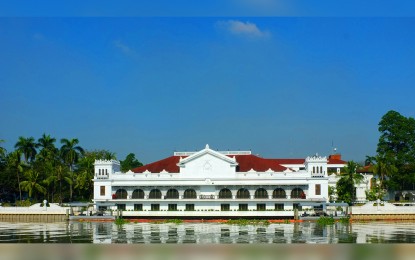 MANILA – Malacañang has welcomed the Supreme Court (SC) decision to dismiss a petition seeking to compel President Rodrigo Duterte to defend national territory, including the West Philippine Sea against China incursions.
The SC voted unanimously to junk the petition for mandamus filed by lawyer Romeo Esmero for "utter lack of merit".
"We welcome the decision of the Supreme Court dismissing the petition for mandamus filed against President Rodrigo Roa Duterte," said Cabinet Secretary and Acting Presidential Spokesperson Karlo Nograles on Wednesday.
Mandamus is "a special civil action brought by an aggrieved party against a tribunal, corporation, board, officer or person unlawfully neglecting the performance of an act which the law specifically requires as a duty resulting from an office, trust or station."
Nograles said executive power rests on the President, including the peaceful and stable conduct of foreign affairs.
"Matters within the President's discretion cannot be compelled by mandamus. President Duterte is the chief architect of foreign policy and this is affirmed by the latest decision of the High Court," he added.
He also maintained that Duterte seek a peaceful resolution of disputes in accordance with international law.
"Having said this, the President has firmly kept his position to continue the peaceful resolution of disputes," he said.
The SC said Esmero impleaded that Duterte, named as sole respondent in the case, has "ministerial duty of the President to defend the national territory which includes the West Philippine Sea".
Esmero told the SC his petition should be an exception to the general rule on Presidential immunity from suit.
The high court said he argued that "the filing of diplomatic protests against China is not a defense by our country on the issue of the West Philippine Sea."
In his petition, Esmero said, "the proper way for the Philippines to act now is to go to the United Nations (UN) Security Council and invoke the Uniting for Peace Resolution of 1950 and sue China before the International Court of Justice (ICJ) to demand payment and damages for taking the Kalayaan Islands."
In the nine-page ruling penned by Associate Justice Rodil Zalameda, the SC said the petitioner, however "has failed to point to any law that specifically requires the President to go to the UN or the ICJ to sue China for its incursions into our exclusive economic zone."
"Neither has he shown a clear and unmistakable constitutional and statutory provision which prescribes how the President is to respond to any threat (actual or imminent) from another State to our sovereignty or exercise of our sovereign rights," the court added.
The SC said the "petitioner himself noted that a case had in fact been filed by the Philippines to vindicate its rights in the West Philippine Sea."
"If President Duterte now sees fit to take a different approach with China despite the said ruling, this does not by itself mean that he has, as petitioner suggests, unlawfully abdicated his duty to protect and defend our national territory, correctible with the issuance by this Court of the extraordinary writ of mandamus. Being the Head of State, he (President Duterte) is free to use his own discretion in this matter, accountable only to his country in his political character and to his own conscience," the high court said. (PNA)