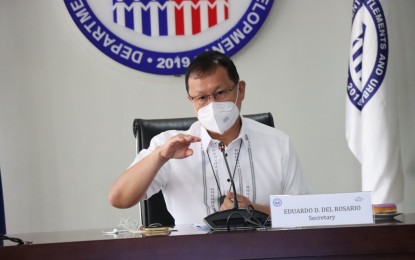 MANILA – Department of Human Settlements and Urban Development (DHSUD) Secretary Eduardo del Rosario called on the local government units (LGUs) nationwide to finalize their respective local shelter plans (LSPs) that will ensure smooth housing projects.
In a news release on Thursday, del Rosario cited the need for strong coordination among members of the National Human Settlements and Urban Development Coordinating Committee (NHSUDCC) to ensure that all Filipinos, regardless of social status, would benefit to the government's decent, affordable and sustainable housing projects.
He said the DHSUD with its key shelter agencies (KSAs) including all stakeholders, such as LGUs and partner-developers, should assure that all housing projects are finalized within their specified timeline.
"Kailangan sa packaging natin, from start to end, kailangan matapos talaga ang projects, hindi yung for show lang ang groundbreaking (In our packaging, from start to end, we need to complete the projects not just to show off during groundbreaking)," del Rosario told the members of NHSUDCC during the agency's previous meeting on Tuesday.
"The implementation of housing projects is both a commitment and a social responsibility," he added.
Del Rosario also noted that the LGUs' local shelter plans are crucial in pushing the up-to-date housing projects in the country.
"We must urge local government units to finalize and complete their respective local shelter plans," he said.
Del Rosario said the committee is eyed to strengthen coordination between DHSUD, its KSAs, and stakeholders to properly manage the housing and urban development policies and programs nationwide.
Among its primary objectives are to recommend policies and programs that will be elevated to the National Human Settlement Board for approval as well as to monitor and evaluate the functions of KSAs.
It also facilitates the harmonization of housing programs and streamlining of processes in the promotion of ease of doing business within the housing sector. (PNA)