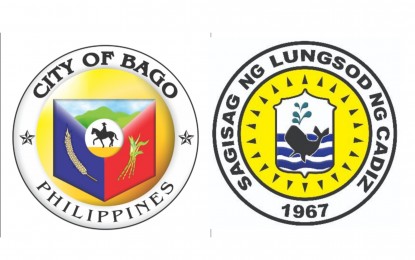 BACOLOD CITY – At least two component cities in Negros Occidental have required their employees to get vaccinated against the coronavirus disease 2019 (Covid-19) or be tested regularly at their own expense.
The directives were provided in the respective memoranda issued by Bago City Mayor Nicholas Yulo and Cadiz City Mayor Salvador Escalante Jr. to their respective City Hall employees on Thursday night.
"Effective Dec. 15, 2021, eligible employees, job order and contract of service workers, who remain to be unvaccinated shall be required to undergo regular RT-PCR or reverse transcription-polymerase chain reaction test at their own expense every 15 days for purposes of on-site work," Yulo said in a memorandum.
Antigen test may be resorted to if RT-PCR test capacity is insufficient or not immediately available, it added.
The Bago mayor directed department heads and chiefs of office to strictly monitor the compliance of unvaccinated employees, as well as to submit a list of all inoculated employees under their jurisdiction with attached certified machine copies of their vaccination cards.
These documents will be submitted to the City Human Resource Management Office no later than noon of December 6, he said.
Citing the national Inter-Agency Task Force Resolution 148-B, series of 2021 relative to the vaccination of employees doing on-site work in areas with sufficient supply of Covid-19 vaccines, Yulo "strongly encouraged" all city government employees to get protection at the soonest time possible.
Meanwhile, Escalante's Memorandum Order SGE-059-2021 said "effective Dec. 1, 2021, unvaccinated employees shall be required to submit on a weekly basis, a negative RT-PCR test result or a negative rapid antigen test (RAT) result at the first hour of the first business day of every week."
The "cost for such RT-PCR test or RAT shall be at the personal expense of the unvaccinated employee," it added.
Moreover, unvaccinated employees who fail to submit a negative RT-PCR or RAT test result will be considered absent until a negative test result is submitted, while consultants who fail to comply with the directive will not be granted honorarium, the memorandum added.
Escalante said all employees and consultants of the city government are required to be vaccinated against Covid-19 using only the vaccines authorized for emergency use by the Philippine Food and Drug Administration.
"(This is) to ensure the health and safety of all our clients and our co-workers in government," the Cadiz mayor added.
As such, the mayor directed all city government employees and consultants to submit their vaccination cards or certificates to their respective department heads or supervisors no later than November 29.
Submission of fake or manufactured vaccine card or certificate constitutes dishonesty, which will be a ground for dismissal on the part of city employees, and non-renewal of contract on the part of the consultant, Escalante said.
He also required all officials and employees of national government agencies to submit a copy of their vaccine cards or certificates to the Office of the City Mayor not later than November 29.
"Otherwise, they shall not be allowed to enter the premises of the City Hall or other LGU (local government unit) buildings where they render their official duties effective Dec. 1, 2021," Escalante said. (PNA)