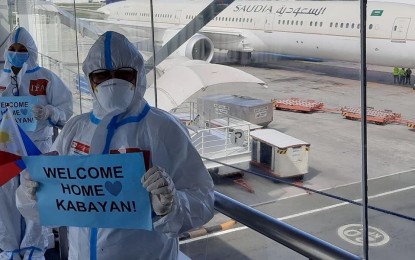 MANILA – The number of overseas Filipino workers (OFWs) who have returned home since the onset of the Covid-19 pandemic last year has breached the 800,000-mark.
Based on Overseas Workers Welfare Administration (OWWA) records as of Sunday, 809,374 OFWs were transported home to regions after undergoing quarantine protocols and were provided assistance by the government.
Those who returned consisted mostly of pandemic-affected workers and displaced OFWs due to lockdowns.
The pandemic resulted in over 125 million workers unemployed worldwide, according to the International Labour Organization.
"Many of our OFWs became helpless when the pandemic struck and so the government launched a massive repatriation drive never done before," Department of Labor and Employment Secretary Silvestre Bello III said in a news release on Sunday.
OFWs were brought back via chartered flights at the expense of the government, accommodated in hotels for quarantine, and underwent Covid-19 testing.
Bello said the period Nov. 15 to Dec. 12, 2020 recorded the highest number of OFWs sent home to regions at 56,925.
This year, the highest number was from October 17 to November 13 at 45,703.
"As long as we have migrant workers who want to go home but can't do so because of difficulties due to the pandemic, we will continue the repatriation program," Bello said. (PR)