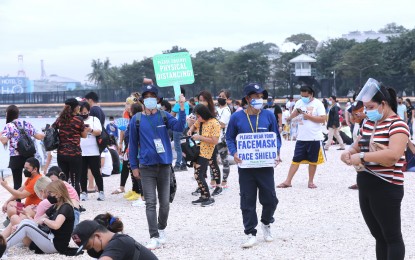 MANILA – The number of new Covid-19 cases nationwide has declined by 34 percent in the recent week, a health official said Monday.
"Our epidemic curve shows that the recent cases per day are already lower than the lowest numbers after the April 2021 peak at 4,982 cases," Department of Health (DOH) Epidemiology Bureau OIC-Director Dr. Alethea de Guzman said in an online media forum.
The average daily reported cases for the week of Nov. 23 to Nov. 29 is 896 or 34 percent lower than the recorded 1,353 cases from November 16 to 22.
The top five regions with the most number of new cases are the National Capital Region (NCR) with 161 cases; Region 4-A (Calabarzon), 351 cases; Region 2, 76; Region 7, 75; and Region 6, 52.
The top five areas with the most number of new cases are Negros Oriental with 48; Zamboanga City, 34; Quezon City, 28; Isabela, 27; and Manila 25.
In the NCR, latest data from the DOH showed that the average daily cases are lower than the lowest cases after the April 2021 peak at 628 cases.
For the period of November 22 to 28, the average daily reported cases are 204 which is 34 percent lower than the 311 cases reported for the period of November 15 to 21.
"Nationally we are at a low risk case classification with a negative two week growth rate at - 45 percent and we now have an average daily attack rate at 1.02 cases for every 100,000 individuals," de Guzman said.
The low risk classification was also accompanied with low risk utilization rate of the health system's capacity - 21.85 percent bed utilization; 16.52 percent mechanical ventilator utilization; and 26.57 intensive care unit utilization.
"The percentage of critical cases among confirmed admissions has plateaued while the percentage of severe [cases] has started to decline staring end-October," de Guzman said.
As of November 21, there were 3,143 confirmed admissions, 567 or 18 percent were severe cases and 255 or 8 percent were critical cases.
The country's death tally for November 1 to 29 is 852 or an average of 32 deaths per day.
Last month, the national deaths reached 4,400 or 142 average deaths per day. (PNA)