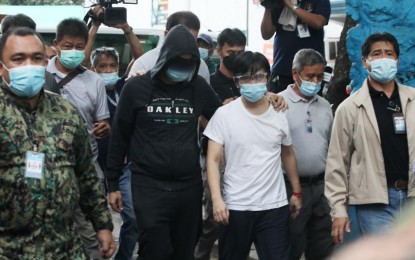 MANILA – Two officials of beleaguered government supplier Pharmally Pharmaceutical Corporation were transferred to the Pasay City Jail on Monday as ordered by the Senate for failing to turn over documents requested by the Blue Ribbon Committee.
Linconn Ong and Mohit Dargani underwent medical checkup and antigen tests for Covid-19 before they left the Senate.
The Senate is probing alleged anomalies in their supply deal with the government for personal protective equipment and other medical supplies for the Covid-19 pandemic response.
In the commitment order signed Saturday by Senate President Vicente Sotto III and committee chair Senator Richard Gordon, Ong and Dargani would remain in jail "until such time that they will properly answer questions propounded to them, submit documents required by the committee, or otherwise purge themselves of a contempt order imposed against them".
The Bureau of Jail Management and Penology (BJMP), through spokesperson Chief Inspector Xavier Solda, assured no special treatment for the Pharmally officials.
"Pasay City Jail is a 1,000 percent congested facility with 1,104 persons deprived of liberty (PDL). It does not have a separate facility, except the isolation area intended for newly committed PDL which is part of the health and security procedures being observed in jails," he said in a statement.
After the mandatory quarantine period of 10 to 14 days, Ong and Dargani will be assigned to a cell for the "general population".
"Walang special treatment. Walang preferential attention para sa kanila. Ang policy ng BJMP, pantay-pantay na pagtrato sa lahat ng aming mga PDL, patas na pagmamalasakit sa lahat (No special treatment. No preferential attention for them. The BJMP's policy is equal treatment for all, equal concern fo all)," Solda added.
Ong has been detained at the Senate since September and Dargani on November 14 after he was caught trying to leave the country. (PNA)