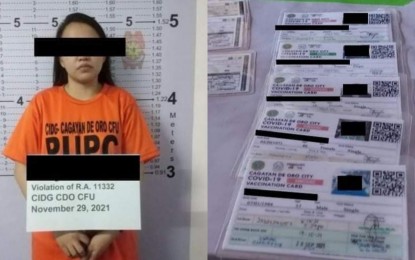 CAGAYAN DE ORO CITY – Authorities have warned individuals against using or manufacturing fake vaccination cards following the arrest of a suspect caught counterfeiting the government-issued document early this week.
In a phone interview Thursday, Maj. Evan Viñas, city police spokesperson, said those who would be convicted of falsifying documents will both be penalized and imprisoned for a minimum of two years.
Article 172 of the Revised Penal Code states that the penalty for falsification by a private individual and use of falsified documents is "prision correccional" in its medium and maximum periods and a fine of not more than PHP5,000 shall be imposed.
"I am also appealing to the public not to patronize these makers of fake vaccination cards and to avail of this document only at authorized agencies like the Department of Health and the city government," Viñas said.
On November 29, a team from the Criminal Investigation and Detection Group in Northern Mindanao (CIDG-10) arrested a woman accepting marked money in exchange for a fake vaccination card.
The CIDG-10, however, did not disclose the name of the suspect or her details.
Her name and her eyes were blocked out from a photo of her that was posted on the CIDG-10 Facebook page.
The agency said the suspect was arrested at Zone 7, Barangay Bulua around 3 p.m. that day.
Confiscated during the operation were two marked PHP100 bills, a set of bills totaling PHP2,500, five fake vaccination cards, a laptop, a printer, a laminating machine, and a paper cutter.
A vaccination card is a document that indicates a person's vaccination record essentially detailing the date of the inoculation and the brand of vaccine that was administered.
Mayor Oscar Moreno earlier put out a warning that those involved in the forgery of vaccination cards and the people who pay for and use them are not only victimizing their families, neighbors, and city residents but also themselves for risking their safety to potential infection.
"I hope these people (fake vaccination card manufacturers and users) realize that they're not only deceiving themselves but other people. The vaccination is for everyone's protection (and rather than find loopholes) they should be vaccinated. What good will it do for them if they do this? God forbid if they do get infected and they infect their families?" Moreno said.
The city health office earlier warned city residents not to buy or manufacture fake vaccination cards or else they would be penalized. (PNA)