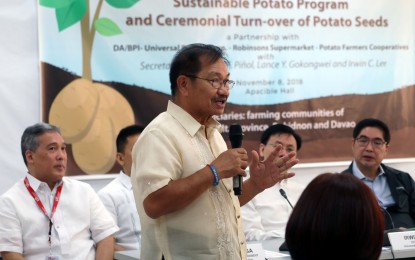 DAVAO CITY – Former Mindanao Development Authority (MinDA) Secretary Emmanuel Piñol said on Saturday he will push for the completion of the projects for Mindanao should he be given a chance for a Senate seat in the coming 2022 polls.
"This is one of the advocacies that I will embrace -- the completion of the committed projects for Mindanao. We need a Mindanaoan who came from an inferior area which understands its need," he said citing the major projects -- Davao-Samal Bridge connector and Mindanao Railway Project.
In a radio interview, Piñol said the Samal bridge project is having a problem on road right-of-way and delay on its bidding process. The PHP23 billion bridge project was supposed to break ground in July last year but was canceled due to the pandemic.
With a length of about 2,830 meters, the bridge would provide a vital link to trade and tourism for both areas through reduced transport costs and faster flow of people, goods, and resources. Conceptualized 40 years ago, the bridge project has been identified as among the big-ticket infrastructure initiatives under President Rodrigo Duterte's administration.
In February this year, the former MinDA chair organized the Davao del Norte Infrastructure Monitoring and Advisory Group (IMAG) to oversee major infrastructure projects, including the Davao City-Samal Island Bridge.
Piñol earlier said the organization of the Davao del Norte IMAG was agreed upon during the meeting between MinDA, government officials, and project engineers of the Department of Public Works and Highways (DPWH) involved in the Davao-Samal Bridge project.
"The Davao del Norte IMAG will be the first of the monitoring groups to be organized in the different provinces of Mindanao to monitor the progress and development of key infrastructure projects, many of which have suffered delays," he said.
Piñol said the IMAG proved to be a "very effective mechanism" in giving stakeholders greater involvement in the monitoring of major infrastructure projects via quarterly meetings where all members, especially the construction company, report on the progress of the project. (PNA)