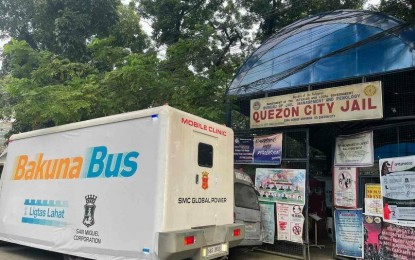 MANILA – Some former Quezon City Jail inmates returned to the facility recently, not for committing crimes again but for their second doses of the Covid-19 vaccine.
The "Ligtas Lahat" (everyone protected) activity was spearheaded by San Miguel Corporation (SMC) infrastructure arm San Miguel Holdings Corp., Integrated Bar of the Philippines (IBP) - QC, and Bureau of Jail Management and Penology.
The SMC bakuna (vaccination) bus was utilized to bring the medical teams and second doses of AstraZeneca vaccines.
The vaccination was conducted at the prison chapel and courtyard by SMC Foundation doctors, nurses, and volunteers.
"We are all aware of the difficult conditions our persons deprived of liberty endure everyday, from crowded jails to lack of adequate access to proper legal services. We at the IBP are committed to helping change that," IBP-QC head Mike Atante said in a news release on Monday.
SMC president Ramon S. Ang said it is one of their ways to help Covid-19 cases go down and make sure no one is left behind, especially the marginalized sectors and prison population.
"I'm glad that even the inmates themselves appreciate the importance of getting vaccinated, so much so that even those who have already been released, came back to get their second shots," Ang said. (PR)