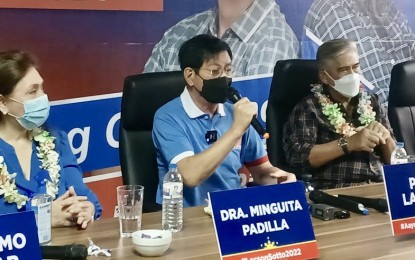 CEBU CITY – Senator Panfilo Lacson on Friday said the national government is ready for the arrival of the 80,000 to 100,000 overseas Filipino workers (OFWs) despite the threat of Omicron variant of coronavirus disease 2019 (Covid-19).
Reports said this number of OFWs are coming home this December either for vacation with their families or part of the repatriation flights organized by the Philippine government.
Lacson, who is in Cebu along with Senate President Vicente Sotto III, lauded the national government's success in containing the Covid-19 which resulted in the drop of the number of cases as well as its effort to prevent the entry of Omicron.
Omicron is now reported in 57 countries, according to the World Health Organization report.
"Whether it is 50,000 or 100,000 or 200,000 OFWs, I think the government agencies concerned are prepared for their arrival. It's a good thing (that) not (a) single case of Omicron (is detected in the country). I hope we can keep it that way," Lacson said in a press conference.
His remarks came as the national government, through the Overseas Workers Welfare Administration (OWWA) announced that some 80,000 to 100,000 OFWs are arriving, as part of resumption of economic life in some countries abroad.
This, as the Department of Health (DOH) on Friday reported that there is no single case of Omicron variant of concern in the country.
However, Lacson suggested strict imposition of protocols to prevent its entry and to avoid the spread of other existing variants of concern like the Delta variant.
Sotto, for his part, said there is no harm in welcoming back the returning OFWs despite the threat of Omicron, "as long as we follow the usual protocol" against the Covid-19.
In the same press conference, ophthalmologist Minquita Padilla cited the national government's effort to vaccinate the citizens to protect them against any Covid-19 variants.
Lacson is running for president under the Partido Reporma while Sotto is running for vice president under the Nationalist People's Coalition. Padilla is running for senator under Reporma.
Fiscal stimulus for MSMEs
Meanwhile, Lacson said creation of a fiscal stimulus package will help micro, small and medium entrepreneurs in the country recover from the impact of Covid-19 pandemic.
"They need government support. The government should keep spending to keep the engine rolling. Because there is no support, our economy will be dead," he said.
The Land Bank of the Philippines and the Development Bank of the Philippines should also extend loans to the MSMEs to help normalize their operations.
He also urged a moratorium on eviction and closures for failure of many business establishments to pay the monthly rentals.
Lacson said 99.5 percent of all the enterprises in the country are MSMEs contributing 63.2 percent of the country's labor force. (PNA)