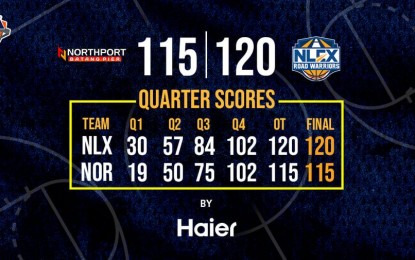 MANILA – NLEX blew a hot start but delivered the goods in the endgame to beat NorthPort, 120-115, in the Philippine Basketball Association (PBA) Governors' Cup at the Ynares Sports Arena in Pasig City on Friday.
KJ McDaniels almost singlehandedly carried the fight for the Road Warriors, atoning for two missed free throws in the final 1:01 left in regulation and the Batang Pier up, 102-99.
"We actually lost our composure for a while there. We had a good lead," NLEX coach Yeng Guiao said about trailing at that stretch despite leading, 30-19, after the first quarter.
NorthPort was not able to close out the game in regulation after Robert Bolick missed a layup, Paolo Taha bungled two free throws, and a turnover.
Kevin Alas forced overtime after making three free throws off a Cameron Forte foul with 1.5 seconds remaining while Bolick failed to convert a three-pointer as regulation time expired.
"Kevin just had great composure sinking three free throws with 1.5 seconds left. That's what you call handling the pressure. He's a pressure player. He can do that. We expect him to do that, and he delivered for us crucial points," Guiao said of Alas.
After Calvin Oftana broke the 102-all tie with a three-pointer to start the five-minute extension, McDaniels took over for the Road Warriors, scoring 11 of their next 13 points to take the fight out of Batang Pier.
"KJ carried us on his shoulders towards the end of the fourth and in the overtime," Guiao said.
McDaniels finished with 40 points on 13-of-21 field goals, 15 rebounds, six assists, two steals, and three blocks to tow the Road Warriors to a 2-0 start.
Alas added 21 points, four boards, and four assists.
Greg Slaughter had 22 points, seven rebounds, and a block to lead the Batang Pier, who fell to 0-2. (PNA)
The scores:
NLEX 120 – McDaniels 40, Alas 21, Miranda 13, Oftana 10, Trollano 8, Quinahan 8, Cruz 4, Magat 4, Semerad 4, Rosales 3, Varilla 3, Paniamogan 2.
NORTHPORT 115 – Slaughter 22, Santos 20, Bolick 18, Forte 17, Malonzo 14, Taha 9, Balanza 7, Ferrer 7, Rike 1, Elorde 0.
Quarters: 30-19; 57-50; 84-75; 102-102 (reg.); 120-115 (OT)