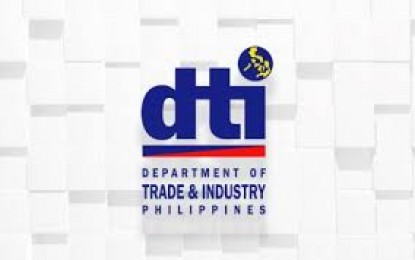 MANILA – Key stakeholders will focus on high-value products and services in crafting the new Philippine Export Development Plan (PEDP) for 2022-2027 while the country works to tap into its unrealized export potential.
Department of Trade and Industry (DTI) Secretary Ramon Lopez said the agency is spearheading the drafting of the new PEDP "with an overarching goal of transforming the Philippines from an exporter of commodities and intermediate goods to an exporter of high-value products and services."
"The new PEDP will also lay out aggressive and disruptive strategic directions with targeted and focused priority products and services for promotion that will accelerate the integration and expansion of Philippine exporters in the global marketplace, both physical and digital," he said during the recent virtual 2021 National Export Congress.
The plan will be anchored on more comprehensive data analysis to ensure that policy and strategic directions are evidence-based and takes into account the impact of the coronavirus disease 2019 (Covid-19) pandemic and the emerging trends as a result of the reconfiguration of global value chains.
"Demonstrating the strong determination to recover from the impact of Covid-19, more than 3,700 Philippine exporters have access (to) new markets in 2021 taking into consideration the global developments and the need to accelerate recovery," Lopez said.
Lopez said the future of Philippine exports holds a "lot of potential" but challenges remain.
Citing the export potential assessment of the International Trade Centre (ITC), he said the Philippines has an unrealized export potential of USD49 billion, with USD20 billion caused by product markets specific frictions which can be unlocked and realized through instituting reforms in the area of trade facilitation, among others.
Lopez said the DTI and the Export Development Council, in coordination with various government agencies, have been working on a joint memorandum circular that aims to accelerate the recovery of the export sector.
"(This is) by addressing some of the key binding constraints to export growth and competitiveness in the area of trade facilitation and by strengthening our partnerships with private sector partners," he said.
As part of its continuous efforts to improve the delivery of services to exporters and in line with a "more ambitious and bolder" PEDP, Lopez said DTI will undertake strategic shifts in export development and promotion, including redefining the measures of exports success from just looking at aggregate values and growth figures to targeted metrics.
"Reframing mindsets from export promotion to export development with inclusive innovation industrial strategy at its core and stratifying interventions and leveraging partnerships, identifying the right interventions for each export sub-sector depending on their readiness, and their constraints to growth," he added.
Sylvie Bétemps Cochin, senior trade promotion officer and project manager at ITC, said more innovative firms were less affected by Covid-19 and are more resilient, based on the ITC SME (small and medium-sized enterprises) competitive survey conducted in 2020.
"The access to information and market intelligence has also shown to be a key element of competitiveness in the current context and the support of business organizations has also been key," she said during the same event, adding these enable exporters to identify markets or maintain their market share during the pandemic. (PR)