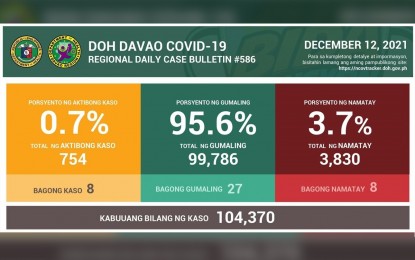 DAVAO CITY – The Department of Health (DOH) in Region 11 reported on Sunday night eight new cases of Covid-19, with 27 more recoveries bringing down the region's active cases to 754.
In a statement, the DOH-11 said the 99,786 total recoveries correspond to a 95.6-percent recovery rate out of the 104,370 confirmed cases logged since the pandemic was declared in March last year.
The agency said this city has the most number of recovered patients at 51,972 followed by Davao del Norte (18,677); Davao del Sur (10,921); Davao Oriental (7,314); Davao de Oro (7,203); and Davao Occidental (3,699).
Of the total number of new recoveries in the region, Davao Occidental topped the list with 14; Davao del Nortel, eight; and Davao del Sur, three; and Davao Oriental, two.
Of the new cases, three are from Davao de Oro, two from Davao City, two from Davao del Sur, and one from Davao del Norte.
All the new cases were reported as local transmission. Meanwhile, eight new deaths were also recorded -- five from Davao del Sur, two from Davao Occidental, and one from Davao del Norte.
Dr. Annabelle Yumang, DOH-11 regional director, said local government units in the Davao Region have taken great leaps forward in fighting the Covid-19 virus through ongoing vaccination efforts in the communities.
"Vaccination efforts not only protect people but also allow economic activities to reopen again, supporting livelihoods and a quality of life for all," she said in a statement on Sunday.
"The continuing success of the vaccination efforts throughout the region gives us a glimmer of hope and victories to celebrate. We honor the hard work of our healthcare heroes who have been tirelessly working to provide access to the COVID-19 vaccines to every corner of the Davao Region," she added. (PNA)