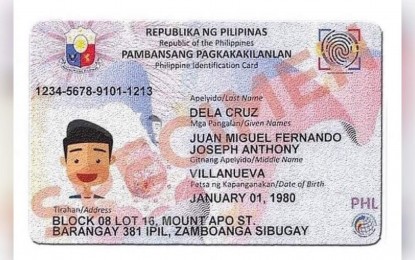 MANILA – The Philippine Statistics Authority (PSA) has achieved its target of 50 million registrations for the Philippine Identification System (PhilSys) in 2021 despite the challenges brought about by the coronavirus disease 2019 (Covid-19) pandemic.
As of December 10, the PSA registered 50,014,382 Filipinos to the demographic and biometric data collection.
In partnership with the PSA, the Land Bank of the Philippines has also processed 6,786,939 bank account applications through a colocation strategy in PhilSys registration centers.
This milestone will help promote financial inclusion, improve the targeting of beneficiaries, and accelerate the delivery of government social protection programs for all Filipinos.
"The pandemic emphasized the urgency of providing every Filipino with a unique and digitalized ID. This is why we accelerated the roll-out of the PhilSys. We congratulate and thank the PSA, our government and development partners, private sector stakeholders, and registration officers for making this huge accomplishment possible," Socioeconomic Planning Secretary Karl Kendrick Chua said in a statement Wednesday.
To reach more registrants, PhilSys registration sites will remain open in the remaining working days of the year.
The PSA also enjoins the private sector to host mobile registrations in their respective workplaces and communities.
"The PhilSys will enhance service delivery of both the public and private sector and give every Filipino, especially the poor, access to much-needed social and financial services. We encourage everyone to register and take part in this game-changing reform," Chua said.
Signed into law by President Rodrigo R. Duterte in August 2018, Republic Act 11055, or the Philippine Identification System Act, aims to establish a single national ID for all Filipinos and resident aliens.
The national ID shall be a valid proof of identity that shall be a means of simplifying public and private transactions, enrollment in schools, and the opening of bank accounts.
It also seeks to boost efficiency, especially in dealing with government agencies where people will only need to present one ID during transactions. (PNA)