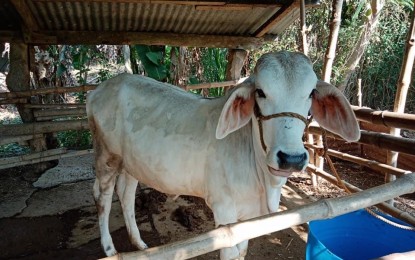 LAOAG CITY – Piddig town, known for the so-called Basi Revolt in Ilocos Norte, is creating another milestone for being the first province in this northern part of the country to venture into wagyu meat production, the popular highly marbled beef in Japan.
Backed by the Department of Agriculture (DA) and the municipality of Piddig led by mayor Eduardo "Eddie" Guillen, several native cows in the town are engaged in an artificial insemination program to produce wagyu-cross calves.
"Since we cannot repopulate hogs yet due to ASF (African swine fever), our mayor initiated the wagyu crossbreed development program as an alternative livelihood to our farmers," Adap said in an interview Wednesday.
Under the wagyu cross-development program, town agriculturist Harvey Adap reported to the DA in Ilocos Region that at least 58 native cows in Piddig have been artificially inseminated with wagyu semen and these are expected to give birth after nine months.
Once a local farmer with a native cow is enlisted under the program, Adap said the owner is assured of free insurance coverage courtesy of the Philippine Crop Insurance Corporation, free artificial insemination service as well as vitamins, dewormers provision among others from the municipal government and DA.
"Our livestock raisers are also assured of a ready market because the farmers' cooperative will buy their calves once they are ready to wean," he added.
Aside from the marketing assistance, farmers can also earn extra by growing corn silage or Napier grass for the dairy farm of the cooperative, which aims to introduce outstanding genetics like wagyu.
"All the farm inputs will be provided free for them and their only counterpart is labor," Adap said.
To boost food sufficiency and agri-business in Piddig and Ilocos Norte, DA Secretary William Dar announced during his visit on December 14 that his department is giving PHP56.4 million support for the local farmers.
"May this continue to inspire other farmers and local government units in the country with Piddig's best practices in terms of farm consolidation," Dar said in his speech.
Wagyu is a Japanese beef cattle used for the production of high-quality and flavorful meat.
Because of the way it is raised, wagyu is more expensive than other types of steak. (PNA)