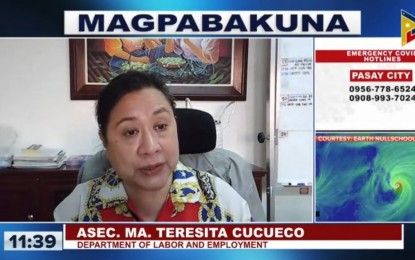 MANILA – The Department of Labor and Employment (DOLE) on Thursday reported that it has surpassed its 75,000 target establishments to be inspected for compliance on general labor standards, occupational safety, and coronavirus disease 2019 (Covid-19) monitoring for this year.
"Our target for this year is 75,000. Today, we are at 90,327. We're over, and 120 percent on inspection. We see good in their compliance with general labor standards and occupational safety and Covid-19 monitoring, as of November," Labor Assistant Secretary Ma. Teresita Cucueco said in a Laging Handa briefing.
She also reported that the compliance of companies is improving, as they recorded some 70 percent of firms are following the guidelines, particularly in safety and health.
"The compliance on general labor standards and safety and health is recorded separately. Last year, we recorded good compliance with general labor standards. In safety and health, compliance is better now than last year. It's only 50 or 60 percent. Now it is around 70 percent. Compliance is improving," Cucueco said.
"Compliance with standards is non -negotiable with workplaces and workers. For employers, I hope to commit their resources to be able to continue the government's program. Omicron is there. We need to remember that our responsibility is to protect each other and as well as the workplace...so that our economy will be revived," she added.
On the other hand, the DOLE official admitted that they need additional labor inspectors of at least 2,000 to augment the current number at 1,200.
"Secretary Silvestre Bello III has asked to increase the number of labor inspectors. We reach a million establishments that need to be inspected once a year. So far, we have 1,200 inspectors. We are still asking for more. Hopefully, we will be able to have 5,000 that will be good or at least 2,000 more," she said.
On Sunday, Bello directed all DOLE regional offices to temporarily cease all labor inspection activities starting December 1, to settle pending standards cases and prepare the inspection program for next year. (PNA)