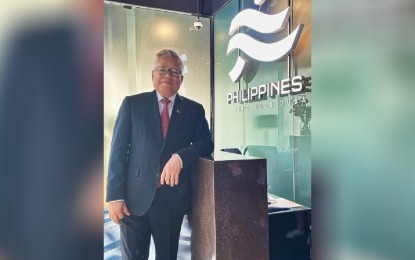 DUBAI, United Arab Emirates (UAE) — Department of Trade and Industry (DTI) Secretary Ramon Lopez proposed stronger trade and investment ties with the UAE as he joined the inaugural Global Business Forum (GBF) Association of Southeast Asian Nations (Asean) hosted at Expo Dubai 2020.
The forum is a signature event of the Dubai Chamber of Commerce and Industry, aimed to provide a platform for dialogue among UAE, Asean, and other global businesses and governments.

Held from December 8 to 9, GBF Asean was attended by other ministers from the UAE government and the Asean and featured over 40 speakers and 25-panel discussions that focused on the changing dynamics of Asean countries and opportunities to increase bilateral trade, business, and investment ties between the two regions.

"We see complementarities in the resources that each of our countries has, which therefore brings more opportunities for trade and investment. We also value the presence of over 700,000 OFWs in UAE, the third-largest group of foreign workers in UAE, which is a big factor in pursuing trade in services," Lopez said.

"We also met the Minister of Foreign Trade H.E. Thani Ahmed Al Zeyoudi as well as with Minister of State H.E. Ahmed bin Ali Al Sayegh to discuss possible partnerships in terms of establishing a Joint Commission on economic and trade cooperation between Philippines and UAE that will, hopefully, lead to a comprehensive economic partnership agreement down the road," he added.

Last year, the Philippines signed the Regional Comprehensive Economic Partnership (RCEP) Agreement together with Asean member states, forming the world's largest free trade area in terms of global trade, gross domestic product, foreign direct investments, and market size.

"The RCEP provides friendly business mechanisms to facilitate trade with key trading partners through clear and transparent procedures. We look forward to utilizing this partnership to further explore trade and investment opportunities with UAE and other countries in the Gulf Region," Lopez said.
Lopez met with major UAE investors in logistics and port operation, vaccine manufacturing, AI-enabled IT systems, cold storage panel systems, and halal certifying and advisory group.

Lopez assured the investors that "the Philippines remains in a high growth trajectory as the country continues its strides to reopen the economy, and continued fiscal and administrative support will be provided as indicated in the CREATE Act, in addition to other legislative measures that will ease the foreign equity restrictions in key sectors."

"We offered to have an investment promotion and protection agreement, which we started before the pandemic. We hope to conclude this early next year. This agreement will definitely improve the confidence of UAE investors in the Philippines. We will be offering the country as an investment destination as well to sovereign wealth funds," he said.

The trade chief was accompanied in the Global Business Forum by the other government officials virtually, including Department of Agriculture Secretary William Dar and Department of Science and Technology Secretary Fortunato de la Pena.
Lopez said a potential trade deal would give a significant boost to the Philippines' agriculture, food, consumer items, electrical and industrial products, and services sectors.
Lopez, who is also the designated Commissioner General of the Philippines' participation in the Dubai 2020 Expo, also inspected the Philippines pavilion, and the United Arab Emirates, Saudi Arabia, the United States, and DP World pavilions and other facilities of the Dubai Expo.
"The Philippine pavilion at Expo 2020 Dubai, proves to be an excellent showcase of our country's rich history and heritage, presenting as well the modern Filipinos of the present, and the future," Lopez said. (PR)