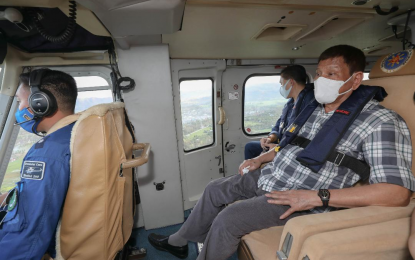 MANILA – President Rodrigo Duterte has urged Leyteños to "pray directly to God" to spare them from another typhoon.
"The only thing I'm asking from God, I am asking Him to spare you from another typhoon. Maybe when you Leyteños pray, you pray to the priest. Don't pray to the priest, pray directly to God…Pray hard because we really need a good -- to fight the calamities there," he said in a speech in his Maasin City, Leyte on Saturday.
Duterte admitted that seeing the damage to his birthplace caused by Typhoon Odette led him close to tears.
"They could have been brought here to help because when there's a storm, it will really sweep through the entire place. I feel sorry for the people. I didn't even want to get down from the vehicle because looking at the damages makes me want to cry. But here, at least the situation is better unlike in -- there were people waiting by the side of the road, suffering. I felt very sorry for them," he added.
Because Leyte is prone to typhoons, Duterte said he remembered telling his mother that he wanted to move to another province.
"That's the reason why when I was born -- the moment I was born into this world -- I told my mother, 'Let's not stay here because this place is really prone to typhoons'," he said.
He said they moved to Davao because the region was less likely to be hit by typhoons.
"There are no typhoons in Davao and that is why Mindanao is -- because it's below the wind current. The typhoon will just pass through because we are the window of the Pacific. Take away the Mariana Islands and Guam because that's American territory. We have no part in that," he said.
He, however, said Davao had its own fair of problems such as communist insurgency.
"Mindanao should have been the one to bring relief and provide ample food supply to us. It's a fertile land actually and what makes Mindanao attractive is the climate, every -- when we first moved here -- every afternoon, it only drizzles, it just rains. So it enabled the agricultural endeavors… But the problem with Mindanao is the insurgency)," he added.
On Saturday, Duterte conducted an aerial inspection in areas ravaged by typhoon Odette and ordered the mobilization of all government assets to expedite the delivery of aid.
He also designated Department of Social Welfare and Development Secretary Rolando Bautista to act as the crisis manager in Surigao del Norte and Dinagat Islands with assistance from National Disaster Risk Reduction and Management Council Executive Director and Civil Defense Administrator Undersecretary Ricardo Jalad. (PNA)