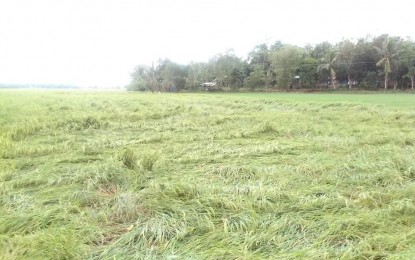 ILOILO CITY – Validation is still ongoing on the damage incurred by the agriculture sector due to Typhoon Odette which was initially assessed at PHP513.99 million as of Tuesday morning.
The typhoon has affected 17, 270 farmers engaged in rice crops and high-value commercial crops (HVCC) as per the progress damage assessment report of the Department of Agriculture Regional Field Office in Western Visayas (DA RFO 6).
Except for Aklan, which reported damage in HVCC estimated at PHP2.26 million, the rest of the provinces in Western Visayas reported damage in rice crops in various growth stages.
Capiz reported that 18,914 hectares of rice crops were affected valued at PHP21.67 million; Iloilo has 6,993 hectares estimated at PHP99.45 million; Antique has 1,290 hectares affected worth PHP16.22 million; and Negros Occidental with 23,792 hectares estimated at PHP374.35 million.
DA Field Operations Division chief, Dominador Marquez, said they have instructions from the regional executive director, Remelyn Recoter, to prioritize the provision of the Rice Farmers Financial Assistance (RFFA) under the Rice Tariffication Law to areas badly affected by the typhoon.
"We will now be prioritizing hard-hit areas so that somehow, they have something to spend. We know that their standing crops were affected," he added in an interview.
Western Visayas has a total RFFA allocation of PHP1.17 billion that will be released through the Development Bank of the Philippines (DBP) and Land Bank of the Philippines (LBP) with 234,199 farmers as target recipients.
The distribution is ongoing in Iloilo for the PHP5,000 cash for rice farmers tilling two hectares or less. As of December 18, the total payout already reached PHP13.226 million, he said.
Meanwhile, the provincial government of Iloilo is eyeing to declare the province under state of calamity.
The initial report of the Provincial Disaster Risk Reduction and Management Council (PDRRMC) showed that in addition to damaged houses, the typhoon has affected the agriculture sector, Iloilo Governor Arthur Defensor Jr. said in a media interview on Tuesday.
Defensor said the PDRRMC has passed a resolution recommending for the declaration to be tackled by the Sangguniang Panlalawigan (SP).
He will also be meeting with concerned government agencies to determine the assistance they could extend to affected farmers.
"The Department of Agriculture could probably replace the seeds of our affected farmers," he added. (PNA)