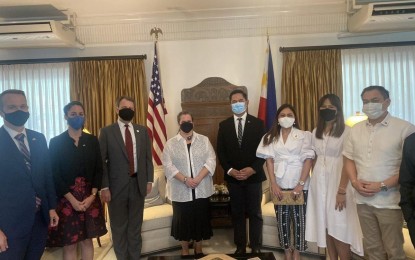 MANILA – Presidential Communications Operations Office (PCOO) Secretary Martin Andanar along with other PCOO executives met Tuesday with United States Embassy Chargé d'Affaires Heather C. Variava who has committed to extend humanitarian aid to families in Visayas and Mindanao that were affected by Typhoon Odette.
Andanar expressed his gratitude to the US Embassy's generosity while other agencies, local governments, and the private sector are also responding to the calamity.
"We've been calling on the public and to everyone to display genuine compassion and generosity to our kababayans who are seeking shelter and warmth after their homes were wrecked by the typhoon," he said.
"And we are very thankful for the charity and support that the US Embassy and Chargé d'Affaires Variava has shown us in order to help those who are still in need of our assistance," he added.
The two officials met at the American official's residence in Makati City.
They also discussed new cooperation efforts, including the development of the Government Communication Academy (GCA).
Chargé d'Affaires Variava is in favor of building cooperation efforts in communications, specifically to support the operations of the GCA. They also discussed communication education exchange to advance skills and experiences of FIlipino media workers, and the Philippines' participation in other US capacity building projects.
"I am thrilled for this possible cooperation that we will be having in the coming months. I hope that this will push through so that when we leave our office next year, we can leave something for state media workers in PCOO," Andanar said.
Andanar previously bared that the PCOO plans to tie up with the Development Academy of the Philippines (DAP), University of the Philippines-Los Banos (UPLB) and Northern Bukidnon State College (NBSC) in crafting programs for the GCA that will be attuned to the needs of state media workers.
Delegates include US Embassy Public Affairs Officer Mr. John Groch, Press Attache Ms. Heather Fabrikant, and Mr. Stephen Dove; and PCOO Undersecretaries Kristian Ablan and George Apacible. (PCOO PR)