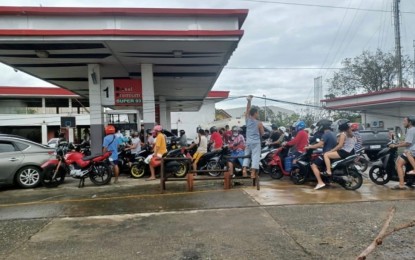 CEBU CITY – The Department of Trade and Industry (DTI) in Region 7 on Friday issued a "strong warning" against unscrupulous traders that are found violating the price freeze order from the agency, as it is currently intensifying monitoring of non-compliant establishments.
DTI-7 regional director Maria Elena Arbon confirmed that a price freeze on basic necessities is in place for 60 days following Proclamation No. 1267 declaring a state of calamity in the Visayas and Mindanao areas affected by Typhoon Odette.
The trade agency is conducting price and supply monitoring in worst-hit areas and other towns and cities in the region.
Arbon said no violations have yet been found in major establishments within Central Visayas as the office has just released the list of basic necessities under price freeze.
However, there were vendors in Bohol who were made to explain why they were selling goods beyond the price ceiling.
DTI-Bohol listed 104 establishments that are under close monitoring due to complaints, while 42 supermarkets and stores were already slapped with the show cause orders.
"These are partial (report) as data is being verified and transmitted to the DTI… Consumers are advised to report any violations," the DTI-Bohol said in a statement.
If an unjustified increase of prices of basic necessities is proven, Arbon said the traders will be issued a notice of violation by the DTI.
The agency is coordinating with the local government units in monitoring the establishments' compliance with the price freeze issued on Thursday.
If there is an alleged violation by establishments, a local government unit (LGU) can suspend, revoke, or cancel the business permit which gives them the license to operate.
The DTI has also been receiving several unverified reports and social media posts of unscrupulous traders selling water and construction materials at relatively high prices.
The department has appealed for public vigilance in these trying times in the aftermath of the typhoon that bettered all four provinces in Region 7.
Consumers can report acts that violate the price freeze order to 09178188419 or DTI Cebu FB page; (038) 5018260 or DTI Bohol FB page; (035) 4809065 or DTI Siquijor FB page; 0917-300-5811 or DTI Negros Oriental FB Page.
"The public may also reach out to their respective LGUs with corresponding proof and identifiable location so the agency can act on it immediately," the statement said.
Violators can be charged and penalized with criminal and/or administrative penalties for violations committed under the Price Act and existing rules and regulations.
Fines shall in no case be less than PHP1,000.00 or more than PHP1 million for violation of the automatic price control or mandated price ceiling.
For illegal price manipulation, a fine of not less than PHP5,000 nor more than PHP2,000,000 shall be imposed against the violator.
Pursuant to the price freeze order, the public may check the price ceiling of basic necessities in Central Visayas.
Among the commodities that are categorized as basic necessities and monitored by the DTI are bread, canned fish and marine products, potable water in bottles and containers, processed milk, locally manufactured instant noodles, coffee, salt, laundry soap, detergent, candles, flour processed and canned pork, processed and canned beef and poultry meat, vinegar, patis, soy sauce, toilet soap, paper, school supplies, cement, clinker, G.I. Sheets, hollow blocks, construction nails, batteries, electrical supplies, light bulbs, and steel wires. (PNA)