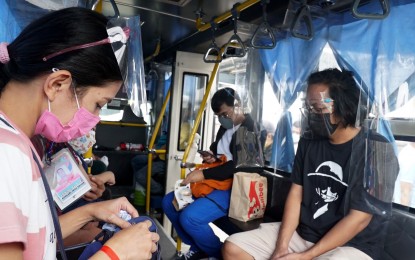 MANILA – A recent study done by the Ateneo de Manila University (ADMU) found that less barriers in public transport actually reduce the risk of coronavirus disease 2019 (Covid-19) transmission, Department of Science and Technology (DOST) Secretary Fortunato de la Peña said.
"Results of the study show that the number of barriers and their arrangement greatly affect the airflow within these (public utility) vehicles. Barriers can be the seats with backrests, acetate or plastic barriers, and face shields, among others," he said in a taped report aired on Friday.
The study was funded by the Philippine Council for Health Research and Development (PCHRD) and was conducted from May to October 2021.
Led by Joel Maquiling of ADMU, the study aimed to identify significant risks of disease transmission among passengers of buses, Light Rail Transit (LRT), and Metro Rail Transit (MRT).
To analyze the risks in public transport, the study team conducted 3D-simulations using a commuter bus, LRT2 and MRT configurations, according to de la Peña.
The current LRT and MRT configurations, where seats are arranged at the sides and passengers face each other, are found to provide better airflow within the vehicle compared to the current commuter bus setup, he said.
Commuter buses have plastic barriers in-between seats.
"Aside from barriers, additional (entrance/exit) in the vehicles configured in an alternating open-closed-open manner will enhance the airflow and flush out any agents of infectious disease, like SARS-CoV-2," de la Peña added.
He said the research team noted the importance of wearing face masks that perfectly fit the face, instead of using barriers of any form, which could also trap viral loads of SARS-CoV-2.
Results of the study may be used to guide pertinent government agencies and policy makers in designing and implementing policies and guidelines, the DOST chief said.
Further, the study could guide transportation engineers in reconfiguring vehicles.
"The study will also serve as a guide for commuters to lessen the airborne transmission of SARS-CoV-2 in the local transport system. Data generated from the study may also be utilized by medical or health-related businesses in designing, fabricating appropriate personal protective equipment for commuters," de la Peña said. (PNA)