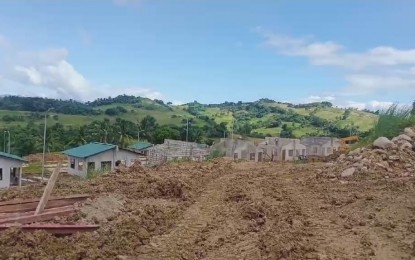 MANILA – In a remote village in San Isidro, Leyte, former Communist Party of the Philippines-New People's Army (CPP-NPA) rebels try to rebuild their lives shattered by years of armed conflict, together with their families and through the help of the government.
"Ka Mayang", 50, told the Philippine News Agency that she is committed to help the government in return by guiding former rebels at the Peace and Prosperity Village.
For 21 years, Ka Mayang carried firearms, embraced the ideology of the CPP-NPA, and fought the government.
She was only 15 years old when she joined the terrorist communist group after she was promised a life devoid of poverty.
She later realized that the CPP-NPA has no means or plans to help improve their lives.
She was captured by soldiers in 2007 and since then, has been cooperating with the government and convincing rebels that it is never too late to restart their lives.
"Siguro walang rebelde ang hindi magbago sa ginawa ng gobyerno, sa ginawa ng Presidente Duterte, kaya isa sa panawagan ko sa mga kasamahan ko ngayon na hindi pa huli ang lahat para bumaba sila para makapiling nila pamilya nila at mga anak nila dahil sa karamihan ng mga nanay na kadre iniwan ang mga anak nila sa masa (Rebels will change because of the opportunity for a better life that the government and President Duterte are offering. That is why I appeal to my comrades that it is never too late for them to reunite with their families and children, because most of the cadres who are mothers left their children)," Ka Mayang said.
Gov't aid
A former provincial federation president of a group of former rebels, the Integrated Peace and Development Workers Association, she now leads a bigger group of former rebels in establishing their community.
Among the assistance provided to former rebels in the village are the construction of 458 units of permanent houses, livelihood training, provision of capital, farm-related technical skills, new access roads, product development, and marketing know-hows.
When President Rodrigo Duterte visited San Isidro in January 2020, he promised former rebels the PHP20-million housing project that is part of the Enhanced Comprehensive Local Integration Program (E-CLIP).
Each house and lot package costs PHP450,000 and has a lot size of 60 square meters (sqm) and a floor area of 21 sqm.
The PHP67-million access road from the main road to the housing site is under construction, along with the PHP235-million road from the village to nearby Calubian town.
The Department of Agrarian Reform has also completed the distribution of 2,000 sqm farm lot each to 458 former rebels.
Ka Mayang said they now have 13 cooperatives with more than 700 members.
"Kapag pumunta pa dito ang NPA, sila na mismo ang umaayaw. Ito na mismo ang gusto naming, 'yung lupa para sa magsasaka at andyan lahat ng mga training nabigay na kaya nakilala ang Peace Prosperity Village (When the NPA comes over, the people drive them away. This is what we want, land for the farmers and all the trainings are being provided in the Peace and Prosperity Village)," she said.
There are also 22 poultry egg-laying facilities on a property provided by the local government.
Most of the surrenderers were recruited by Ka Mayang herself from the 1990s to early 2000. She has also been instrumental in convincing them to trust the government.
She now considers fellow former rebels and the Philippine Army as her families.
"Handa kaming tulungan ang mga gustong bumaba at gustong makipag-meet sa amin. Sana matulungan pa din kami. Syempre ang coop parang mga bata na parang kailangan pa din namin ng mga training. Kailangan pa din namin ng hindi din mapabayaan sa mga agency kung anong request namin na mapalago pa ang business namin (We are ready to help those who want to surrender and meet with us. I also hope that the government will continue to help us and guide our cooperatives because we still need trainings to make the business grow)," she said.
The CPP-NPA, which has been waging a five-decade armed struggle against the government, is listed as a terrorist organization by the United States, the European Union, the United Kingdom, Australia, Canada, New Zealand, and the Philippines. (PNA)