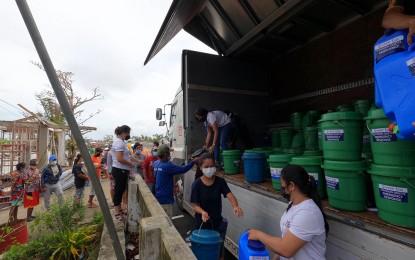 SURIGAO CITY – The United States Agency for International Development (USAID), through its partner non-government organizations (NGOs), distributed relief assistance on Wednesday to 1,000 families from Barangays Sabang and Talisay here.
The USAID relief distribution was facilitated by the Action Against Hunger and International Organization for Migration (IOM).
Each of the affected families in the two barangays received 35 kilos of rice and non-food items consisting of hygiene kits, toothpaste, shampoos, and bath towels, among others.
Of the total number of family beneficiaries, 600 were from Barangay Sabang while 400 were residents of Barangay Talisay.
"The affected families also received cooking utensils such as frying pans, cutleries, and pots," Roel Fegarido, the project head of Action Against Hunger, told reporters in an interview at the sideline of the distribution.
He said the relief assistance provided was based on the assessment they conducted after Typhoon Odette ravaged this city on December 16.
"After Surigao City, we are preparing for relief distribution in Siargao Island. Assessment on the impact of Typhoon Odette was already started there and we will focus on providing water and sanitation to the affected residents in the island," Fegarido said.
The organization, in partnership with USAID, will also work for the rehabilitation and recovery of Siargao Island, specifically on the first three weeks of January 2022, he added.
The other USAID partner organization, the IOM, said it will focus on the management of evacuation shelters for the affected families, as well as the provision of critical relief supplies, including heavy-duty plastic sheeting.
A representative from IOM, who requested anonymity, told reporters that they have already provided 100 heavy-duty plastic sheeting to the affected residents of Barangays Sabang and Talisay.
US Embassy Chargé d'Affaires ad interim Heather Variava was supposed to visit Surigao City Wednesday to join its partner organizations in the relief distribution but their airplane failed to land here due to bad weather conditions and zero visibility.
In an earlier statement, the USAID said it has allocated an additional PHP50 million in humanitarian assistance to support the communities affected by Typhoon Odette in the country, which brought the total U.S. support to PHP1 billion.
In a separate interview with reporters during the distribution activity, Evie Igbalic, the barangay chairperson of Sabang, thanked the U.S. government and its partner NGOs for the immediate relief assistance.
"We are truly grateful for all the things they did. I thank them for being reliable shoulders to lean on especially during these difficult times. Words are not enough to express how grateful we are," Igbalic said.
This city was among the severely-devastated areas in Surigao del Norte when Typhoon Odette made landfall in Siargao Island on December 16.
In its December 23 situational report, the Provincial Disaster Risk Reduction Management Office of Surigao del Norte indicated a total of 5,159 families or 26,648 individuals directly affected by the onslaught of Typhoon Odette.
The typhoon also damaged 45,147 houses - 31,836 of which were partially destroyed while 13,311 leveled - in 30 barangays of this city. (PNA)