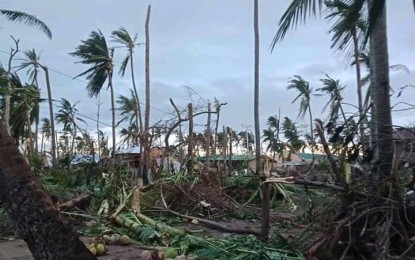 MANILA – The Philippine Coconut Authority (PCA) has been working nonstop since last year's onslaught of Typhoon Odette to assist affected plantation areas.
Of the estimated PHP8-billion damage in the agriculture sector, PHP1.58 billion are in the coconut sector, according to data shared on Monday.
In a Facebook post, the PCA said the Quick Response Fund was not enough but they sourced out other forms of assistance through its regional field offices.
Transport assistance was provided by the Armed Forces of the Philippines (AFP) to deliver 140 chainsaws for the clearing and disposal of damaged coconut trees – 50 to Surigao, 30 to Dinagat Islands, 50 to Southern Leyte, and 10 to other parts of Leyte.
An additional 50 units of reconditioned chainsaws are also ready for deployment to Southern Leyte.
AFP units in Eastern Visayas and Caraga helped transport chainsaws from Tacloban to Surigao.
In partnership with local government units, the PCA supervised debris-clearing to ensure that only the felled and totally damaged trees were cut.
Rehabilitation
The PCA also made necessary arrangements with other national government agencies, such as the Department of Human Settlements and Urban Development (DHSUD), Department of Social Welfare and Development (DSWD), and the military for coordinated and speedy rehabilitation efforts.
The DSWD vowed to provide temporary employment to chainsaw operators, haulers, and helpers through their cash-for-work program; coconut lumbers will be turned over to the DHSUD to be used for the construction of temporary housing facilities; and the AFP shall assist PCA in transporting equipment and supplies.
Regional offices' help
In Region 13 (Caraga), PHP2.95 million in funds were released to support the farmers in Surigao, while PHP1.05 million will go to Dinagat Islands.
In Region 8 (Eastern Visayas), PHP1.066 million will be used to assist the farmers of Southern Leyte.
"These funds are intended to provide short gestation crops and small ruminants to provide food for the families of our farmers and for the consuming public, support the incentivized and participatory planting and replanting project, as well as fertilizers to rehabilitate damaged coconut trees," the PCA stated.
An additional funds of PHP480,000 was also reprogrammed by PCA for the repair of chainsaws and the deployment of generator sets.
There will be a distribution of 152,014 seednuts and seedlings for the eventual replacement of the felled and damaged trees in the severely affected areas. (PNA)