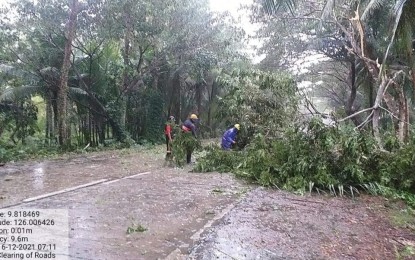 CAGAYAN DE ORO CITY - Residents in Iligan City and parts of the Caraga Region affected by last month's Typhoon Odette continue to receive relief aid from various groups, including government offices.
On Tuesday, the Revenue District Office (RDO) 101 of the Bureau of Internal Revenue (BIR) gave relief goods to 21 families in Iligan City whose houses got flooded during the typhoon.
The recipients, identified by the City Social Welfare and Development Office, were from barangays Dalipuga, Buru-un, Upper Hinaplanon, Puga-an, Mandulog, and Digkilaan.
Families with five dependents each received five sets of grocery packs and 25 kilos of rice.
The RDO 101 also handed over PHP500 to each family to cover their transportation expenses during the distribution.
Amanoding Esmail, Revenue District Officer of RDO 101, said in a statement the distribution was part of the community service of the bureau to assist victims of calamities such as "Odette."
He hopes that the simple gift-giving would help ease the lives of those affected by the typhoon.
"BIR is not only good at collecting taxes but we are also good at helping our countrymen who have been devastated by unpleasant disasters like typhoon Odette]," said BIR Revenue Region (RR)16 Director Emir Abutazil who witnessed the distribution.
Abutazil said the RR16 received financial assistance from the BIR Makati which were divided among the three RDOs.
For Iligan City, Abutazil said Esmail provided some augmentation funds to buy rice and grocery items for the affected families.
Rohaima Panandigan of Barangay Mandulog thanked the RDO 101 for the support extended to them.
She said the typhoon destroyed their house.
Jennifer Estrellanes, of Barangay Dalipuga, recounted how the typhoon damaged their house, forcing them to relocate due to the risk of landslides in the area.
NorMin 'bayanahin'
Meanwhile, the Northern Mindanao Federation of Family Welfare Committees (NMFFWC) has initiated the "NorthMin FWP (Family Welfare Program) Bayanihan, Kaya Yan!" as its immediate disaster relief response to the affected member companies of the Caraga Family Welfare Council, Inc. (CFWCI) for ravaged communities and workers in Surigao provinces.
The NMFFWC delivered essential goods and company products consisting of rice, bottled water, juice drinks, and other essentials to CFWCI president Ricky Tabasa of Sherlock Manpower and Security Services on January 7.
NorthMin FWP: Bayanihan, Kaya Yan! is in line with NMFFWC advocacies for a sustained task, focusing on building a more disaster-prepared organization in taking significant strides towards assisting calamity victims. (PNA)