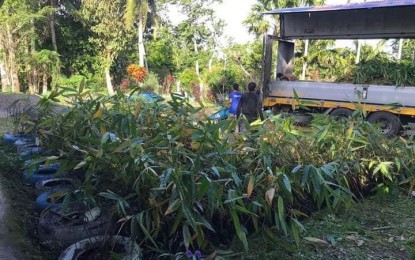 MANILA – Former Agriculture Secretary Manny Piñol said planting "giant bamboos" is a good investment where Filipino farmers can earn good profit.
"Ang dami kasing gamit ng kawayan (There are just so many uses for bamboo) and I can understand the excitement of people seeing the photos of the towering bamboos," Piñol said in his social media post on Monday.
He cited the importance of empowering Filipinos through agriculture.
Piñol earlier distributed more than a thousand giant bamboo varieties to the City of Naga.
In his post, he said the bamboo materials can soon be used for floating fish cages, housing materials, and pet cages.
He said shipments to Polilio in Quezon, Masbate, Marinduque, Romblon, Bantayan, Camotes Islands as well as additional bamboos for Mindoro and Palawan are on the way.
The Philippine Bamboo Foundation (PBF) said the Philippines is the fifth largest bamboo exporter in the world behind Vietnam. Other exporters are China, Europe, and Indonesia.
It also reported that up to 52,000 hectares of land in the country is planted to bamboo but the market demands more.
In 2021, Mindanao's bamboo industry received an International Commodity Certification (ICC) which will allow it to penetrate the American billion-dollar construction market.
Bukidnon Giant Bamboo Resources Corporation said the Philippines can supply a portion of the United States' annual 3,000-container requirement. (PNA)