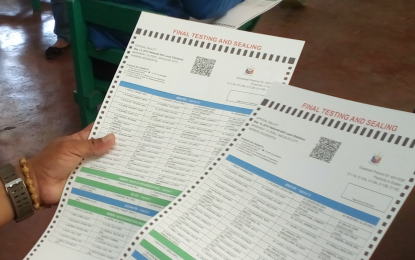 MANILA – The printing of the official ballots for the May 9, 2022 national and local elections started Thursday night, Commission on Elections (Comelec) spokesperson James Jimenez said.
Jimenez said the first set of about 60,000 ballots to be printed are for the Local Absentee Voting (LAV).
"Printing of official Local Absentee Voting ballots will begin tonight (approximately 7 p.m.) at the National Printing Office (in Quezon City)," he said in a statement.
The next ballots to be printed, he said, are 79,000 manual ballots for overseas voters and then some 86,000 ballots for the Bangsamoro Autonomous Region in Muslim Mindanao (BARMM).
"LAV, manual OFOV, and BARMM ballots are all manual ballots, i.e., no preprinted candidate names," Jimenez said.
The poll body will be printing more than 67 million ballots for the national and local elections. (PNA)